Google's internal startup Niantic Labs has created a game called "Ingress" that is still in closed beta release. It is an augmented reality, massive multiplayer video game that uses location-based augmented reality of actual locations as game play. The augmented reality is based on where the player is physically, and adds layers to the game based on the surroundings. "Ingress" also opens up some compelling possibilities for advertisers.
In "Ingress," the setting is based in the real world, with added effects only available on the user's smartphone or tablet. Like Foursquare, it is location based, but does not create a completely virtual environment such as other video games.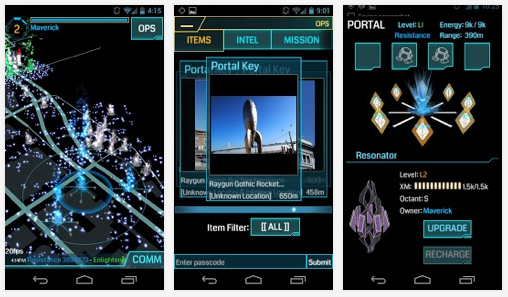 "Ingress" is a different step from MMORPGs, massive multiplayer online role-playing games such as "World of Warcraft." It can be considered a "MMRPG," massive multiplayer real place game, and already has five million downloads from the Google Play Store.
Players must defend their city and fight against other warring groups. It is divided into "places," actual landmarks or buildings; "arena," the world or area at large; and "portals," which are augmented game effects.
Niantic Labs has developed another app that uses data created by "Ingress" to point out places of interest and to discover. The location-based functionality can be used by advertisers in several potential ways, according to Quartz.
Data can be collected as users move about, and apply location-based advertising. Since "Ingress" is augmenting reality, the virtual reality can have virtual advertisements.
Locations in the game, or portals, can act as a virtual point that includes a point for goods and services. Ingress can also be a forum or venue for virtual events, in which sponsors can host and advertise upon.
"Ingress" brings a new level of game play by adding a virtual reality to an existing, physical one. In a simplified form, it is similar to QR codes, NFC, and magic mirrors, where virtual tools and features are brought to reality.
Topics:
Ads
,
Advertising
,
Android
,
AR
,
Augmented Ads
,
Augmented Reality
,
Game
,
Gaming
,
Google
,
Google Play
,
Ingress
,
MMORPG
,
Mobile
,
Multiplayer
,
NFC
,
Niantic Labs
,
QR Code
,
Reality
,
Video Game
,
Virtual Reality
,
World of Warcraft