Nordstrom recently tested new technology in their stores in order to learn more about their customers. The system tracked customers' movements by following their smartphone Wi-Fi signals while in the store. Nordstrom's system is similar to what online retailers do to track customers' online movements. Nordstrom is one of many retailers that are using in-store tracking and monitoring technologies, yet there are concerns of privacy.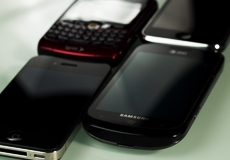 The retailer posted a sign regarding the tracking, and some customers complained. The Nordstrom experiment ended in May, mainly due to complaints, according to The New York Times.
The retailer's actions are part of a movement to collect data on in-store customer behavior. Using video surveillance and cellular phone signals, retailers also use apps in order to learn additional details, all to determine a shopper's sex, where they spend time in a store and the time spent looking at merchandise prior to buying it.
Some consumers, that normally do not care about online tracking, take issue with the physical tracking. "The idea that you're being stalked in a store is, I think, a bit creepy, as opposed to, it's only a cookie — they don't really know who I am," said Robert Plant, a computer information systems professor at the University of Miami School of Business Administration. He also adds that consumers can rarely control or have access to this data.
Philz Coffee in Berkeley, California, is using technology from Euclid Analytics that worked on the Nordstrom experiment, to determine the signals among smartphones and a Wi-Fi antenna to count the number of people walking by the storefront and how many actually enter.
"Brick-and-mortar stores have been disadvantaged compared with online retailers, which get people's digital crumbs," explains Guido Jouret, the head of Cisco's emerging technologies group. Jouret argues that physical stores should have the same data mining and analytics that online retailers do determining customer habits.
RetailNext uses video footage to study in-store shopping behaviors. The company also uses shoppers' smartphones to discover more patterns by using their Wi-Fi to determine their location in the store or if they are a returning customer, regardless if the shopper uses their Wi-Fi or not.
Other companies are using facial recognition systems to measure shoppers' reactions. London-based Realeyes uses this technology to determine responses, such as "happiness levels," and Russian startup Synqera sells facial recognition that personalizes marketing messages to a customer's gender, age and mood.
New York-based Nomi matches a phone to a specific person by using an app or an email address provided by the customer. It then creates and maintains a profile based on in-store and online activity.
Despite all the tracking, some consumers are willing to trade their digital privacy for special discounts and services. Placed, a Seattle company, offers an app that asks where customers are while in the store and sells this data to retailers, in exchange for cash or gift cards. According to the company, they have had more than 500,000 downloads.
A video demonstration of some of these technologies can be viewed in the NYT article.
Topics:
Analytics
,
App
,
Behavior
,
Big Data
,
Brick-and-Mortar
,
Cisco
,
Commerce
,
Consumer
,
Data Mining
,
Euclid
,
Facial Recognition
,
In-Store
,
Jouret
,
Miami
,
Mobile
,
Monitoring
,
Nordstrom
,
Online
,
Philz
,
Placed
,
Privacy
,
Profile
,
Realeyes
,
Retail
,
Retailers
,
RetailNext
,
Smartphone
,
Technology
,
Tracking
,
Wi-Fi
,
Wireless