On July 1, experiential entertainment company Illuminarium Experiences will open its first location in Atlanta, Georgia, offering "Wild," a virtual safari shot by RadicalMedia. The company's immersive entertainment is intended to offer a kind of virtual reality — but without the clunky headsets. Instead, visitors walk through exhibits with 4K video on giant screens, spatial sound systems, haptic flooring and other interactive features including scent. Tickets for "Wild," at $35, give the visitor an hour to walk through an 8,000-square-foot room.
Variety reports that, for $50, the visitor will get an "all-inclusive" ticket, a $10 voucher for the café or gift shop and flexible entry time. RadicalMedia chief executive Jon Kamen stated, "we are uniquely set up to take people to places they may never imagine being able to go."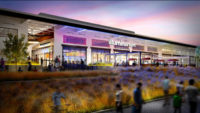 His company, which shot "Hamilton" performances for Disney+, has shot VR experiences before. But Kamen said that "Wild" is "VR without goggles … more of a communal experience."
Production designer and architect David Rockwell and his Rockwell Group were involved with "Wild" as was investor Alan Greenberg, who joined the company as chief executive. Eldridge, the holding company headed by Todd Boehly, was a "significant investor" in the initial $100 million funding.
Manufacturers involved in the venture include Panasonic, which provides the 4K projectors, displays and camera solutions for the 350-feet long, 22-feet high canvas. Holoplot provides "proprietary beamforming and wavefield synthesis technology with the ability to localize and isolate sound" across the venue. Ouster offers its OS0 ultra-wide view lidar sensor "to be responsive to guests' movements," and Powersoft was responsible for a haptic infrasound floor that produces realistic sensations.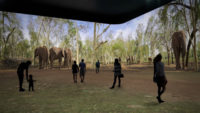 Greenberg stated that the "Wild" spectacle cost about $10 million and "used custom camera arrays that provide a 240-degree native field of view, shot on location to showcase animals in their native habitats across South Africa, Botswana, Kenya and Tanzania." Illuminarium's next production is "Spacewalk," which will let visitors "stroll across Moon and Mars." A third production will "take visitors into the depths of the world's oceans."
In addition to these experiences, Illuminarium After Dark, developed by the LAB at Rockwell Group, will be a nightlife destination, "letting visitors experience different virtual settings, from a Tokyo city street to fantastical dreamscapes." Greenberg said the Illuminarium spaces will also be available to rent for private events. Legends, which manages operations at 150+ sports arenas and attractions, is the company's operational partner.
After the Atlanta site opens its doors, Illuminarium plans to open another location in Las Vegas in January 2022 and Miami in spring 2022, with additional locations "under consideration" in New York, Chicago, Toronto, Montreal, Los Angeles and Austin. "As we expand internationally, we have to be aware of what translates culturally," said Kamen.
Topics:
4K
,
Alan Greenberg
,
Atlanta
,
David Rockwell
,
Disney Plus
,
Eldridge
,
Georgia
,
Haptics
,
Holoplot
,
Illuminarium After Dark
,
Illuminarium Experiences
,
Immersive
,
Interactive
,
Jon Kamen
,
Las Vegas
,
Legends
,
Lidar
,
Miami
,
Ouster
,
Panasonic
,
Powersoft
,
RadicalMedia
,
Rockwell Group
,
Spatial Audio
,
Todd Boehly
,
Video
,
Virtual Reality
,
Wild