The Android and iOS app stores have been dominant in gaming, but the advent of HTML5 may change that up. Developers will be able to create instant games, which they hope will grab the attention of more consumers. Games based on HTML5, which run in a browser and don't require a download, are already being built into social media platforms and messaging systems. Instant game advocates argue that apps can be hard to find, require heavy advertising, and have to be downloaded and installed in order to play.
VentureBeat reports that Facebook Messenger and BlackBerry Messenger (BBM) have both created HTML5 instant games. Berlin-based Softgames built a platform for BBM with 400 competitive instant games; it also was one of 17 launch partners for Facebook Messenger's Instant Games (below), where it has more than 5 million players across its three games.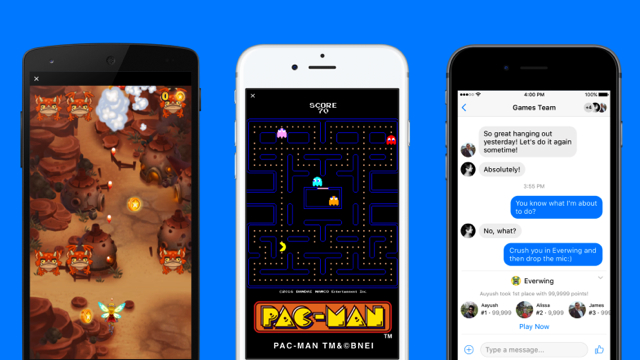 At Casual Connect Europe, Softgames chief executive Alexander Krug spoke about the benefits of HTML5 games. "It may be hard to believe, but the app boom is finally over after almost a decade of massive growth," he said. He notes that in 2016, time spent with games declined, whereas social networking and messaging ticked up.
"There are too many apps available while the resource 'user time' is limited," he added. "As a result only the biggest app developers can succeed, and even then only with enormous amounts of marketing dollars."
With iMessage, users can play games inside the app without leaving it — but they still have to download the app. "iMessage is all about peer-to-peer interactions," said Krug, who predicts simplicity will be the trend for 2017. "This means that Apple should remove the biggest friction of the app store: the download and install process itself."
Also in 2016, developers got access to the chatbot frameworks of Facebook Messenger, Kik, Twitter, Skype, Line, Telegram, and Viber. Bots, however, haven't taken off, due to the problem of discovery.
Although HTML5 instant games were criticized in the past, Krug notes that today's smartphones are more capable of running these games in browser. In another approach, 1APP.com created a version of Android in the cloud, to instantly deliver a mobile app or game.
"HTML5 instant games will change an entire industry, but it may take time as we have to change the way how people get to apps," Krug said. "We have to educate them on their pain point. How bad is it to download and install apps from a store, and how much easier would it be to play within their messenger."
Topics:
1APP.com
,
Advertising
,
Alexander Krug
,
Android
,
App Store
,
BBM
,
Berlin
,
Browser
,
Casual Connect Europe
,
Developer
,
Facebook Messenger
,
Gaming
,
HTML5
,
iMessage
,
Instant Games
,
Internet
,
iOS
,
Kik
,
LINE
,
Marketing
,
Messaging
,
Skype
,
Smartphone
,
Social Media
,
Softgames
,
Telegram
,
Twitter
,
Viber