Taiwanese phone manufacturer HTC has rolled out its anticipated monthly subscription service for virtual reality content, including video games and short interactive films. For a $7 per month fee, users can download up to five VR titles a month from the online Viveport store. HTC is positioning the new service as a way for customers to try out an app before they decide to purchase it. The service is only available to owners of the HTC Vive VR headset. Among the titles initially available are "Everest VR" and "Mars Odyssey."
Fortune states that, "owners of rival devices like Facebook's Oculus Rift and Sony's PlayStation VR headset can download VR apps from the respective online stores." With a "dearth of compelling virtual reality content," HTC hopes its new service will both incentivize VR developers to create more content and "convince customers to download several apps at a time and buy VR games or shorts."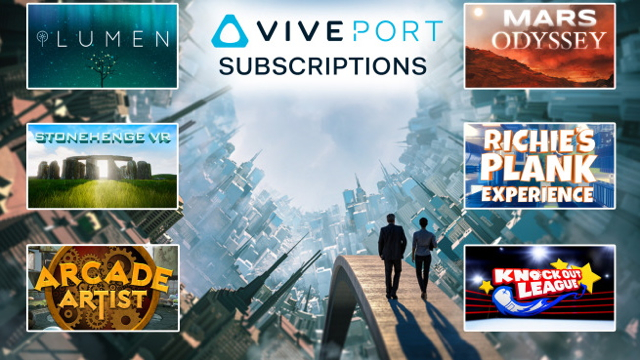 Fortune presumes that, "HTC will share a portion of the monthly subscription cost with VR studios and developers." To spur sales of the Vive headset, HTC will lower its price by $100 to $700 for one day only, April 5, for new customers. Facebook now sells the Oculus Rift for $500; Sony's PlayStation VR headset costs $400.
TechCrunch adds that the HTC Vive headset, just celebrating its one-year anniversary, is "a surprising hit for the aging mobile company." All Vive owners will get a copy of Vive Studios' new title "Arcade Saga," as well as a free trial month to HTC's new VR subscription service.
The subscription library is made up of "about 50 titles," and "most Vive owners download games from Valve's Steam store," since the Vive is based on SteamVR's operating system. That store has 1,600 titles.
Viveport president Rikard Steiber said the goal is sign up 250,000 subscribers for the new service, although "he admits that might not be a goal that is hit in 2017." Research firm SuperData estimates that HTC has sold "under a half-million headsets."
Topics:
Apps
,
Arcade Saga
,
Developers
,
Everest VR
,
Facebook
,
Gaming
,
HTC
,
HTC Vive
,
Mars Odyssey
,
Mobile
,
Movies
,
Oculus Rift
,
PlayStation VR
,
Rikard Steiber
,
Smartphones
,
Sony
,
Steam
,
SteamVR
,
Subscription
,
SuperData
,
Taiwan
,
Valve
,
Video
,
Video Games
,
Virtual Reality
,
Vive Studios
,
Viveport VR
,
VR Content
,
VR Headsets