What Next Generation Cinema technologies and techniques mean for filmmakers was the focus of the six mini-panels that made up a single session at the HPA Tech Retreat in Indian Wells on Wednesday. Topics addressed included Extended Color Gamut; Pairing the Mathematics of Motion and Frame Rate with Artistic Vision; Laser Projection and Higher Dynamic Range; Next-Generation Cinema Technology Test Material; Beyond the Screen; and Suspending Disbelief: When and How to Use New Tools and Techniques.

Extended Color Gamut
Matt Cowan of Entertainment Technology Consultants and Jan Fröhlich of Stuttgart Media University looked at extended color gamut. Cowan showed slides comparing P3, Rec 709 and 2020 color spaces. Color patches showed the increased saturation of 2020 color space, in particular with cyan and magenta.
Fröhlich showed footage from a carnival scene shot in Stuttgart and timed for 2020 color gamut, noting that very few people have seen such footage. "Does this help me to tell a story?" he asked. "Even if it's more saturated than reality, it somehow tells the story. I personally think 2020 is an interesting addition to the palette."
Motion and Frame Rate
Cinematographer Bill Bennett, ASC and Tessive's Tony Davis examined how to pair motion and frame rate with artistic vision. Bennett primarily shoots TV commercials, mostly automotive, and Davis noted how motion blur is important in how the footage works frame-to-frame.
"Any canvas should start clean, said Davis. "For the time dimension, three things define that canvas: frame rate; how real-world action is captured by the camera and represented in a single frame; and how the projector converts each frame back into the continuous signal it represents."
He described judder (acquisition aliasing that happens in the camera), strobing (which is reconstruction aliasing, and happens at the projector) and blurry motion (which is low frame rate).
"The camera shutter function is the key to fixing judder," he said. "If we soften the shutter function, it gives much more control. Once you go to a soft shutter, you have an infinite variety, which is a new palette you can work with."
A new method of controlling the shutter function — without additional hardware — would be to acquire at high-frame rate (120fps or higher), 360-degree shutter; the Tessive Time Filter software does this, taking ACES, ARRI Raw and other inputs.
"The higher the frame rate input, the smoother the function can be," he said. "But it works pretty well at 120fps."
Laser Projection and Higher Dynamic Range
RealD's Pete Ludé looked at laser projection and higher dynamic range. "Current display technologies cannot emulate the range of light in the real world," he said. He noted that there is no clear industry definition of HDR, although "perhaps 18 to 20 f-stops is there."
High Dynamic Range requires brighter highlights and blacker blacks. How do we achieve that? Ludé stated that a laser-illuminated projector could triple the brightness and improve brightness efficacy, saving energy. Changes to the motion picture screen can also help. Current screen manufacturing still relies on spraying chemical elements on a vinyl screen; a new manufacturing process deposits a very thin coat of aluminum on PCP.
"You end up with a surface that can be engineered for specific gain, reflectivity and total integrated scatter, with 91 percent efficacy, unlike current conventional screens with 52 percent reflective efficacy," he said.
On-screen blacks depend on a variety of issues including the projection lens; auditorium ambient light level; and auditorium contrast, said Ludé. One unexpected issue is the reflection from the auditorium seats, walls and people back on the screen.
Adding up all the factors, a typical theater measures a contrast of 354:1. Improvements and a future system can bring that up to 700:1 contrast. "But true 1,000,000:1 is really hard," said Ludé. "You need a bright projector, really dark content and an empty theater."
Cinema Tech Test Material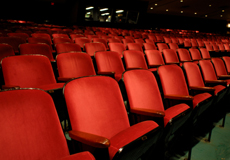 Entertainment Technology Consultants' Garrett Smith and cinematographer/author Dave Stump, ASC — both on the AMPAS Working Group — focused on next-generation cinema technology test material.
As the creative palette of storytelling expands, the Academy Science and Technology Council decided to create test materials to investigate the parameters of HFR, HDR, High Density Brightness and wider shutter angles. Titled "The Affair," the scripted technical exploration was directed by Howard Lukk with Stump as cinematographer, and "most branches of the Academy were involved."
A motion control rig precisely repeated the same camera moves at all frame rates. The dolly pace was set to stress 24p judder. "We shot on a single ARRI Alexa at 2K in 24, 30, 48, 60, 72 and 120fps, and at a variety of shutter angles," said Stump. "We also shot the same frame rates and angles on two Sony F65 4K cameras using a 3ality 3D rig with a custom IRND filter on one camera to achieve two different exposures 6 stops apart."
"We plan to create more test materials, but we want to hear what all of you have learned from the material," said Smith. "We want to foster community interaction. Speak up and reach us through the Academy."
Beyond the Screen
Frank Tees of Moving Image Technologies addressed technologies that help drive theater attendance, specifically immersive seating options including motion, vibration, ticklers/pokers, wind, water and bass extension. He noted "passive seating technologies" that offer varying levels of vibration via bolt-on or built-in transducers, and active seating technologies that enable the filmmaker to express creative intent.
"That complements today's current and emerging immersive technology," he said. "It's an added draw for the exhibitors and studios to increase occupancy percentage that might introduce premium ticket sales or event cinema. And it's something that will always be limited in the home."
New Tools and Techniques
International Cinematographer magazine's David Geffner moderated a panel on "Suspending Disbelief: When and How to Use New Tools and Techniques" with two cinematographers: Steven Poster, ASC, and Michael Goi, ASC. Poster is ICG president and Goi is currently shooting "American Horror Story." Geffner asked them how they see UHD, HDR and HFR changing or altering their workflow.
"I make it a habit of taking whatever technology comes along and subverting its intended use to make it work artistically for me," said Goi.
"Just because you can do something doesn't mean that you should. I work on shows that tend to have mature, great actors in them, and none of them want to be shot with razor-sharp anything. I love that these technologies exist and I'll use them. But there has to be a bridge between technology creation and artistic intent and catering to that intent as these technologies blossom."
Poster says he's no fan of HFR. "There might be some uses of it," he said. "But they don't pertain to suspending disbelief, and that's the big problem."
He reported that Panavision and other lens manufacturers are re-barreling old lenses into more modern tools to create "a more pleasing artistic look" with 4K material. "Filters are also being designed to work with 4K because actors don't want every flaw in their face to be shown."
Geffner noted the "march towards a more immersive experience and reproducing reality as faithfully as possible, including virtual reality."
"Doesn't this defeat the idea of poetic interpretation?" he asked. "How does that impact your craft?" Goi said it depends on what each project calls for. "We create the realities we need to make our stories logical," he said.
Poster encouraged the industry to learn more about how human vision is impacted by these new technologies. "We don't know how we're affecting the audience," he said.
Geffner described one cinematographer's fight against default motion interpolation in today's TV receivers. How do today's cinematographers protect the image? Goi shot a film in 35mm anamorphic and has just learned it's streaming in 16×9. "Who decides which movies get the left and right sides chopped off and which don't?" he asked.
Geffner asked if the two cinematographers saw any positives to these next-generation technologies. "Yes, absolutely," said Goi. "I'm always interested in seeing what's happening next. The question is, what is this leading to? Can someone tell me how my movie will be distributed in 50 years?"
Topics:
4K
,
AMPAS
,
ARRI Alexa
,
ARRI Raw
,
ASC
,
Bill Bennett
,
Color Gamut
,
Dave Stump
,
David Geffner
,
Frank Tees
,
Garrett Smith
,
HDR
,
HFR
,
Hollywood Post Alliance
,
Howard Lukk
,
HPA Tech Retreat
,
Jan Fröhlich
,
Laser Projection
,
Matt Cowan
,
Michael Goi
,
Movie
,
PCP
,
Pete Ludé
,
Sony F65
,
Steven Poster
,
Television
,
Tessive Time Filter
,
Theater
,
Tony Davis
,
UHD