Apple's last fiscal quarter brought in a profit of $23.6 billion, with analysts predicting the year's total profit will exceed $70 billion, almost one-third more than last year. Revenue also surpassed Wall Street estimates, up 54 percent to $89.6 billion. Apple announced a 7 percent increase to its cash dividend to 22 cents per share; the board authorized an increase of $90 billion to an existing share-repurchase program. Strong consumer demand for the iPhone 12, Mac computers and iPads is responsible for the results.
The Wall Street Journal reports that Apple chief financial officer Luca Maestri said that, "while work-from-home trends helped Apple's performance … the company may see continued benefits from a hybrid work model … [and] a return to more normal conditions could also boost other business lines." He also noted that the customer-intensive sales of iPhones and watches, which slowed down during the pandemic, will likely return post-pandemic.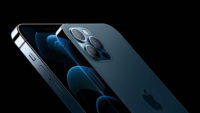 WSJ notes that, "Apple is one of a number of companies that investors are closely watching to see whether historic, pandemic-induced business success can continue." Maestri reported that the company was able to access enough chips in the just-ended quarter but that, "a shortage would contribute to a decline in revenue in the current quarter steeper than the typical falloff following the March period." The shortage is expected to "primarily affect Macs and iPads."
Apple chief executive Tim Cook said, "there was still room for iPhone growth with the newly introduced 5G cellular version of the device," especially since 5G is in "the early days." But, notes WSJ, "the real engine of 2021 is the latest iPhone," with overall revenue for the last quarter leaping 65 percent to $47.9 billion versus analyst expectations of a 42 percent rise.
The most expensive version, the iPhone 12 Pro Max, which starts at $1,099, "saw its share grow to 20 percent of sales from 13 percent a year earlier." The 5G version is "expected to help Apple in China … [where] sales in the latest quarter nearly doubled to $17.7 billion."
The company also saw Mac sales skyrocket 70 percent to $9.1 billion and iPad sales rise 79 percent to $7.8 billion, beating "analyst expectations for increases of 27 percent and 29 percent, respectively."
The Verge reports that, "these Q2 earnings follow a historic, blowout December quarter for Apple that saw the company surpass $100 billion in revenue for the first time in its history." Last week, Apple introduced a variety of new products and, "now focus has shifted to how Apple will perform in the second half of the year and whether the iPhone 12 devices, Apple's first to offer 5G data, have indeed sparked the huge upgrade cycle that some analysts had thought was likely."
The new iPhone and AirTags will go on sale today [April 30], with the all-new MacBook Pro following in coming weeks.
As investors look for Apple to enter a new product category, "rumors have long suggested that AR and VR headsets are in Apple's future," Apple will also soon face a courtroom battle with Epic Games; "depositions from both companies have already been filed, and senior executives are expected to provide extensive testimony starting next week."
Topics:
5G
,
AirTag
,
Apple
,
Apple Watch
,
AR Headset
,
Augmented Reality
,
China
,
Chip
,
Coronavirus
,
COVID-19
,
Epic Games
,
iOS
,
iPad
,
iPad Pro
,
iPhone
,
iPhone 12
,
iPhone 12 Pro Max
,
Luca Maestri
,
Mac
,
MacBook Pro
,
Mobile
,
Notebook
,
Remote Work
,
Tim Cook
,
Virtual Reality
,
VR Headset
,
Wall Street