While companies such as Yuneec, DJI, Ryze Tech, AirSelfie Group and others tout their latest drones and related products at CES this week, action-cam manufacturer GoPro announced that it plans to exit the drone market completely once it unloads its remaining $799 Karma drones. Citing "hostile regulatory environments" and an "untenable" aerial market, the company also plans to cut more than one-fifth of its workforce. GoPro faces mounting competition from new smartphones that feature improved video capabilities and advanced lenses. The company reduced the price of its Hero5 Black and Hero5 Session cameras in December, and this week announced it would lower its Hero6 model from $499 to $399.
"Shares in GoPro tumbled as much as 33 percent in Monday trading after the company announced restructuring plans and warned that its quarterly revenue would be substantially lower than expected," reports The Wall Street Journal. Shares rebounded somewhat after CEO Nick Woodman "told CNBC that GoPro would entertain a sale to a larger company."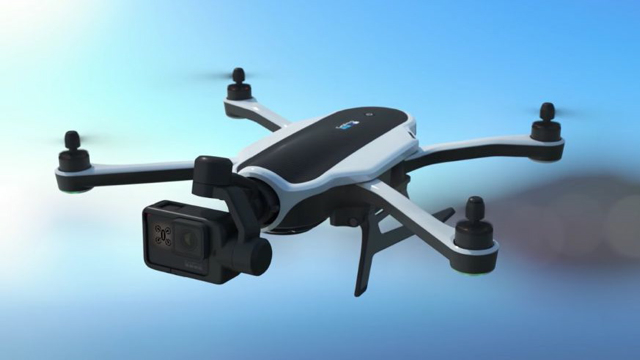 "Although Karma reached the #2 market position in its price band in 2017, the product faces margin challenges in an extremely competitive aerial market," according to the Q4 2017 earnings report.
"Furthermore, a hostile regulatory environment in Europe and the United States will likely reduce the total addressable market in the years ahead. These factors make the aerial market untenable and GoPro will exit the market after selling its remaining Karma inventory. GoPro will continue to provide service and support to Karma customers."
In addition to slashing its workforce from 1,254 to less than 1,000 employees, Woodman's annual $800,000 base salary is being dropped to $1. The company is reportedly looking to reduce its operating expenses by $80 million this year.
"There was at least one tidbit of good news in the statement," suggests Digital Trends. "Sales of the Fusion, GoPro's 360-degree action camera, were better than expected."
Other good news: GoPro was named a CES 2018 Innovations Awards Honoree for excellence in digital imaging. Its Hero6 was recognized "for its new level of performance … and the most advanced stabilization ever achieved in a GoPro," as well as its "voice control, waterproof design and new touch zoom."
The Fusion spherical cam (above) "was also recognized as an Innovation Award Honoree for its outstanding engineering, aesthetic and design qualities, unique features and ease of use against the competitive 360-camera landscape."
Topics:
360 Degree
,
4K
,
Action Cam
,
AirSelfie Group
,
CES 2018
,
CNBC
,
DJI
,
Fusion
,
GoPro
,
Hero5 Black
,
Hero5 Session
,
Hero6
,
Karma
,
Las Vegas
,
Lenses
,
Mobile
,
Nick Woodman
,
QuikStory
,
Regulation
,
Ryze Tech
,
Smartphone
,
Spherical
,
Stabilization
,
Video
,
Voice Control
,
Waterproof
,
Yuneec