Yuneec International announced three new drones at CES — an update to its popular Typhoon H, which initially debuted two years ago, and two new entries: the $700 Firebird FPV (the company's first fixed-wing drone) and the $180 HD Racer (Yuneec's first racing drone). The $1,800 Typhoon H Plus is designed for professional photographers and videographers; Yuneec claims the drone's six-rotor hex airframe produces 40 percent less noise than earlier hex models and can maintain stability in winds up to 30 mph. It also uses Intel RealSense tech to avoid collisions. And with a high-aperture lens and one-inch sensor, the camera can capture 20-megapixel stills and 4K video at 60fps.
"Compared to previous models, the Typhoon H Plus boasts improved low-light camera performance, while a continuous rotation gimbal and retractable landing gear offers seamless 360-degree unobstructed views," according to Digital Trends, which refers to the original Typhoon H as "arguably one of the best drones available on the market."
The Typhoon H Plus ships with a redesigned Android-based controller featuring a "seven-inch integrated display and HD 720p video downlink for stunning real-time video reception," notes DT. And thanks to the smart collision avoidance technology, photographers can spend more time capturing images rather than concentrating on navigation obstacles.
The lightweight Firebird FPV (above), Yuneec's first fixed-wing drone, offers an airplane-like experience with a flight time up to 30 minutes. It features a nose-mounted camera in addition to Return Home, Geo Fence and Auto Landing capabilities. The Safety Mode prevents the Firebird FPV from descending below a certain altitude.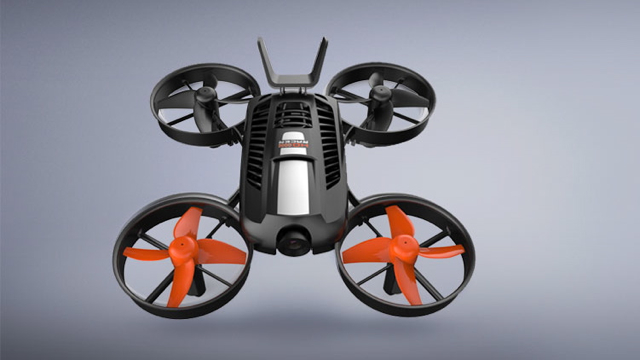 The small and durable HD Racer, meanwhile, with its protected blades (above), is designed for those interested in breaking into drone racing. "The onboard camera can record 1080p video at 60fps, and a low-latency video downlink gives pilots a live feed while racing," reports The Verge. "A flip-up feature helps pilots right their drones and get back in the air in the event that they do crash."
For more information, visit the the Yuneec site.
Topics:
1080p
,
4K
,
720p
,
Android
,
Auto Landing
,
Camera
,
CES 2018
,
Controller
,
Firebird FPV
,
Fixed-Wing
,
Geo Fence
,
Gimbal
,
HD Racer
,
High-Aperture Lens
,
Intel
,
Las Vegas
,
Photography
,
Production
,
Racing Drone
,
RealSense
,
Safety Mode
,
Sensor
,
Typhoon H
,
Typhoon H Plus
,
Video
,
Videography
,
Yuneec
,
Yuneec International