The FCC chair traditionally appears on the first day of CES to discuss the issues relevant to the CTA crowd. For the first time in memory, this year was different, as FCC's Ajit Pai canceled his appearance due reportedly to death threats. Security was still tight, with bag searches and metal detectors, and police and dogs at the ready. Once the conversation started, however, it became obvious that the security was overkill; FTC acting chair Maureen Ohlhausen covered controversial topics, but didn't add fuel to the fire.
CTA president/chief executive Gary Shapiro, who led the conversation, opened by noting that the hot topic of net neutrality is both complex and nuanced. "Under any scenario, Republicans and Democrats agree that you should be able to get what you want," he said. "There is the backup of FTC and Congress and basic fundamental principles." He asked Ohlhausen to explain the role of the FTC in net neutrality.
Ohlhausen reiterated the history of the FTC's involvement in the Internet, noting that when ISPs were redefined as common carriers, the FTC ceased playing an active role. "Now that the Open Internet has been put out, the authority will come back to the FTC," she said, noting that ISPs are required to be transparent over how they manage traffic.
She also reported that the FTC and FCC have discussed how they'll divvy up the duties, but pointed out the Department of Justice anti-trust division will also play a role.
Ohlhausen put the discussion in context by describing "the incredible explosion in broadband speeds" with wireless and, soon, 5G. "When you talk about broadband competition in the U.S., you need to include all the sources of useful broadband," she said.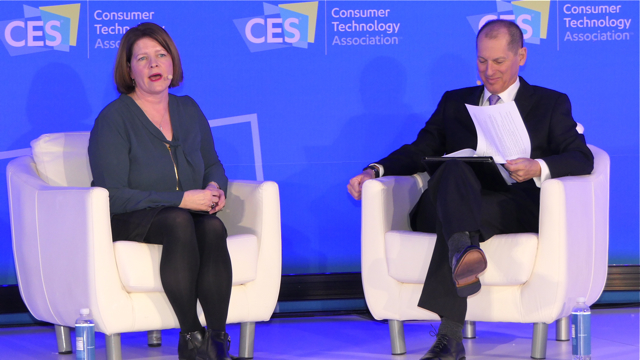 Shapiro noted that connected devices and such innovations as self-driving cars have dramatically increased the amount of data. "Are cars communicating with each other by using the Internet considered more important than downloading something from Netflix?" he asked.
"Yes," said Ohlhausen. "We would want health and safety uses to have priority. Security, safety and privacy will also be important moving into the future." Shapiro concluded that because, "most people would agree that some things are more important … sometimes you can't be neutral."
"I'm trying to show how nuanced this issue is," he said.
Ohlhausen stressed that, "the FTC is the nation's privacy protector," having brought over 500 cases in recent years including one involving a connected toy that didn't protect data or comply with the Children's Online Privacy Protection Act. With regard to cybersecurity, said Ohlhausen, "it's a shared obligation of industry, government and law enforcement to put the right frameworks in place."
"The FTC doesn't have criminal enforcement authority," she pointed out. "We do try to help with industry, to make sure they're taking the proper precautions."
Topics:
5G
,
Ajit Pai
,
Autonomous Vehicles
,
Broadband
,
CES 2018
,
Common Carriers
,
Congress
,
Connected Devices
,
COPPA
,
CTA
,
Cybersecurity
,
Department of Justice
,
FCC
,
FTC
,
Gary Shapiro
,
Internet
,
ISPs
,
Las Vegas
,
Maureen Ohlhausen
,
Net Neutrality
,
Netflix
,
Open Internet
,
Privacy
,
Safety
,
Security
,
Self-Driving Cars
,
Wireless