Google has revamped its search criteria to make sure sites at the top of its search rankings are mobile friendly. The change went into effect earlier this week, along with other criteria that could dock a site for having hard-to-click links or a lopsided layout that requires too much scrolling. Google announced the new search criteria two months ago to give companies time to improve their mobile performance. The secret algorithm has about 200 factors that determine a site's ranking.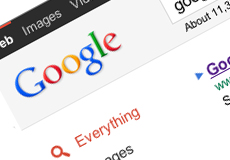 Google changed its algorithm to reflect how people use the Internet. About 134 million people in the U.S. are accessing the Internet through their smartphone. Google is the dominant search engine on all platforms, but it is losing market share of mobile search revenue. It held about 68 percent of the total mobile search market last year, compared to 81 percent in 2012. Native search apps specifically designed for mobile are edging into the market.
Google also has a new way to rank sites based on information contained within apps. If users can get the information they need from one of their installed apps, links to the app will appear in Google Search results. "App Indexing" only works with Android apps.
A Google spokesperson told The New York Times that quality content is more important than mobile friendliness or other factors in their algorithm: "The intent of the search query is still a very strong signal — so if a page with high-quality content is not mobile-friendly, it could still rank high if it has great content for the query. The ranking update will not make it rank below lower-quality pages that are mobile-friendly."
Topics:
Advertising
,
Algorithm
,
Android
,
App Indexing
,
Apps
,
eMarketer
,
Google
,
Internet
,
Links
,
Market Share
,
Mobile
,
Mobile Apps
,
Mobile Friendly
,
Performance
,
Query
,
Ranking
,
Revenue
,
Scrolling
,
Search
,
Search Engine
,
Search Results
,
Smartphones
,
Traffic
,
Web