Google is adding images and video to its Search Generative Experience (SGE), an AI-powered context tool the company began testing in May that some are already calling "the future of Google Search." Those who have signed up for Search Labs and enabled SGE will begin seeing more multimedia at the top of their search results. The idea is to help searchers "get up to speed on a new topic, uncover quick tips for your specific questions or discover products and things to consider — with article links to dig deeper," Google explains of its latest AI improvements.
On a recent earnings call, Google and Alphabet CEO Sundar Pichai said SGE "allows us to think outside the box," adding that "over time, this will just be how search works." The Verge writes that "Google is no longer simply trying to find good links for you every time you search — it's trying to synthesize and generate relevant, true, helpful information," adding that "video in particular could go a long way here."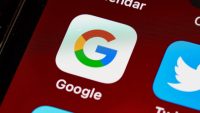 Google has been integrating more YouTube results into search over the years, even linking to specific sections that specifically address a query.
Google Senior Director of Product Management for Search Hema Budaraju explains in a blog post that "sometimes, it's more powerful to understand something by seeing it." Over the next week the company will roll out videos within overviews, "where it's helpful to see something in motion, such as a demonstration of a yoga pose, or how to get stains out of marble."
"Surfacing and contextualizing links is also still going to be crucial for Google if SGE is going to work," The Verge writes, noting that the company will now "display publish dates next to the three articles in the summary box in an effort to 'help you better understand how recent the information is from these web pages.'"
The company has been "experimenting with adding in-line links to the AI summary," according to The Verge, adding that "finding the right balance between giving you the information you were looking for and helping you find it yourself — and all the implications of both those outcomes — is forever one of the hardest problems within Google Search."
Google also announced four new mobile-first search improvements: adding more contextually relevant suggestions, trending searches, expanded touch-to-search and boosting the number of search suggestions to 10 from six.
The improvements for Chrome Android (and iOS later this year) are designed to make it easier to find information "even when you're on the move," Chrome Project Management Nick Kim Sexton explained in a blog post.
Related:
Google Makes It Easier to Find and Remove Personal Info, Explicit Images from Search, TechCrunch, 8/3/23
Google Chrome Updates Bring Improved Search to Mobile and Desktop Downloads, Engadget, 8/2/23
Google Smartens Up Search on Chrome for Mobile, Android Police, 8/2/23
Google's Generative Search Feature Now Shows Related Videos and Images, TechCrunch, 8/2/23