Google unveiled a new thinner version of its Nexus 7 tablet yesterday, this one also made by ASUS, featuring a 1920 x 1200 screen and pixel density of 323 ppi. The CPU has moved up to a 1.5GHz quad-core Qualcomm S4 Pro paired with an Adreno 320 GPU and 2GB of RAM. The 7-inch tablet also features the updated Jelly Bean 4.3 operating system. The new Android OS offers support for multiple users with restricted profiles and Bluetooth LE for pairing with wireless accessories.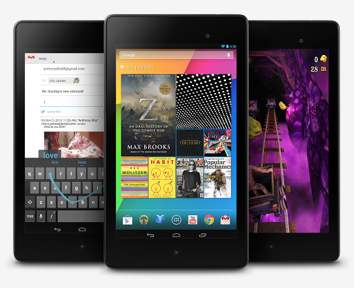 "In addition to NFC and 802.11n connectivity, ASUS and Google have baked in Bluetooth 4.0, thanks to Jelly Bean's new support for the standard," reports Engadget. "There's also SlimPort support for pushing 1080p content to your TV."
"The front-facing camera remains just 1.2 megapixels, though, hopefully ASUS has moved to a higher-quality sensor. There's now a camera around back as well, a rather pedestrian 5MP shooter, but it should be good enough for scanning QR codes, performing image searches and taking the occasional YouTube clip."
The new Nexus is slightly lighter at 11.2 ounces and significantly thinner at 0.3 inch, down from 0.41 inch.
"The tablet has a pair of stereo speakers, and Fraunhofer worked with the companies to kick out top-notch virtual surround sound," notes Engadget.
The real selling point is arguably the high resolution display. "Google says the Nexus 7 display can show a 30 percent wider range of colors than the original," reports Wired. "It can render true 1080p video, and the Netflix app was just updated to take advantage of that capability on Monday."
The Nexus 7 is the first tablet to support the new Netflix app.
"Netflix has developed a new version of its Android app that delivers 1080p HD video for select titles — compatible with Google's new next-gen Nexus 7 tablet with a higher-resolution screen — while the Internet streaming provider currently does not provide HD video on Apple iOS devices," reports Variety. "Netflix said the app will support additional devices later this year."
The Wi-Fi-only versions of the Nexus 7 will be available on July 30 from the Google Play store for $230 (16GB) and $270 (32GB). A $349 LTE edition with 32GB of storage will also be available, although a shipping date was not announced.
Topics:
Adreno 320
,
App
,
Apple
,
Asus
,
Audio
,
Bluetooth
,
Camera
,
Fraunhofer
,
Google
,
Google Play
,
Hi-Res
,
High Resolution
,
iOS
,
Jelly Bean
,
LTE
,
Mobile
,
Nexus
,
Nexus 7
,
NFC
,
QR
,
Qualcomm
,
S4 Pro
,
Screen
,
SlimPort
,
Surround Sound
,
Tablet
,
TV
,
Wi-Fi
,
YouTube