We recently reported that Nokia unveiled its Lumia 1020 Windows 8 smartphone, with its most notable feature, a 41-megapixel camera. The ultra-high resolution surpasses most, if not all, smartphone and point-and-shoot cameras. In its thorough hands-on review, The Verge describes the 1020 as a decent device that is awkward to handle and short on third party apps, but its performance and camera may make up for any shortcomings.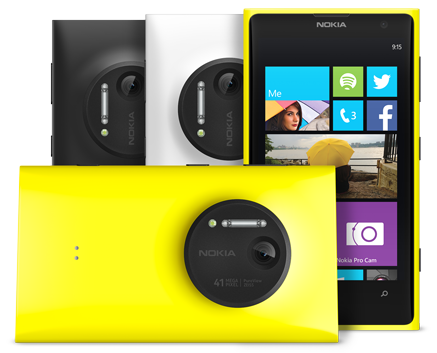 The Lumia has an AMOLED 4.5-inch display, with 1280 x 768 resolution. Compared to flagship Android phones, it is not as big nor as high resolution. The display is crisp and accurate, so long as viewing the screen directly. It features Nokia's ClearBlack display, which makes the screen viewable outdoors and usable when wearing gloves.
The most pronounced feature is the 41-megapixel camera. Images appear the same when viewed small or full size. The 1020 has a powerful 6x digital zoom and strong image stabilization.
Nokia's CEO Stephen Elop described the photo taking experience as "shoot first and zoom later."
"This is by leaps and bounds the best cameraphone ever made," reports The Verge. "It's more flexible than the Lumia 920, more impressive than the iPhone 5, even more accurate and vibrant than the 808 PureView."
It includes a useful photo editing app called Pro Cam. It controls every advanced setting and feature of the camera. There is a noticeable lag when unlocking the phone directly to the camera app, notes the review.
Owners have the the option to buy the Camera Grip ($79) that adds an improved camera button, grip, tripod mount and second battery. Also, the camera has a Xenon flash, not just an LED light.
The phone includes 1080p HD video recording. The 1020 has color oversampling for vibrant and accurate colors, image stabilization which is also available with still shooting, and an improved microphone. The video capability does not outshine competing phones, but it is fine for YouTube.
Despite the powerful camera, the Lumia suffers on third party software. Currently, there is not a wide selection of apps. For example, users cannot use Instagram, Snapchat, nor Google+.
The hardware is built for solid performance. It is powered by a Qualcomm Snapdragon S4 chip clocked at 1.5GHz, along with 2GB of RAM. The Lumia 1020 gets impressive battery life.
The Lumia 1020 will be available starting tomorrow for $299 with a 2-year contract exclusively through AT&T.
Related Stories:
Nokia Launches Lumia 1020 Smartphone with 41MP Camera, ETCentric, 7/15/13
Nokia Lumia 1020 Sets Standard for Smartphone Camera, USA Today, 7/24/13
A Non-Photographer's View of the Nokia Lumia 1020, ZDNet, 7/24/13
Topics:
1080p
,
808 PureView
,
AMOLED
,
Android
,
App
,
Apple
,
AT&T
,
Camera
,
ClearBlack
,
Elop
,
Instagram
,
iPhone 5
,
LTE
,
Lumia
,
Lumia 1020
,
Microsoft
,
Mobile
,
Nokia
,
Phone
,
Pro Cam
,
Qualcomm
,
Smartphone
,
Snapdragon
,
Windows 8
,
Windows Phone
,
Xenon
,
YouTube