The team behind popular contact- and file-sharing app Bump and photo-aggregating app Flock announced this week they will be shutting down the apps to continue work on other projects inside Google. Bump, acquired by Google in September, will no longer be available by the end of this month. Bump and Flock users are encouraged to export all their data by following the instructions that become available when opening either of the apps.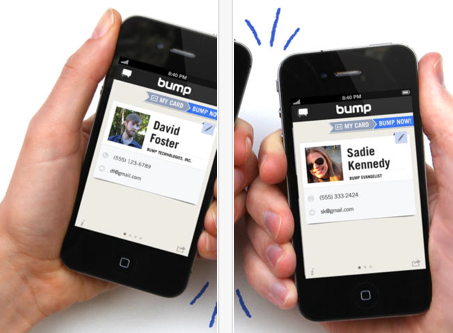 "Bump created buzz when it first came on the scene for allowing smartphones to easily transfer information by tapping them together," reports The Wall Street Journal. "It was a signature feature in Samsung's well-received Galaxy S3 commercial slamming the iPhone. Apple eventually released its own version of local file sharing with AirDrop."
David Lieb, CEO and co-founder of Bump posted the following "All good things…" post on the Bump Blog Tuesday afternoon:
Back in September, we announced that the Bump team was joining Google to continue our work of helping people share and interact with one another using mobile devices.
We are now deeply focused on our new projects within Google, and we've decided to discontinue Bump and Flock. On January 31, 2014, Bump and Flock will be removed from the App Store and Google Play. After this date, neither app will work, and all user data will be deleted.
We've taken much care to make sure that you can retain any data you have in Bump and Flock. At any point in the next 30 days, simply open either app and and follow the instructions for exporting your data. You'll then receive an email with a link containing all of your data (photos, videos, contacts, etc) from Bump or Flock.
Over the years, we've been inspired and humbled by the millions of people who have used Bump and Flock. Your feedback, enthusiasm, and support has brought much meaning to our work, and we want to thank you all for that. In many ways, Bump was a revolutionary product that inspired many subsequent advances and helped push the world forward. We hope our new creations at Google will do the same.
Topics:
Acquire
,
Ad
,
AirDrop
,
Album
,
Android
,
App
,
Apple
,
Bump
,
Commercial
,
Contact
,
Contacts
,
Data
,
Export
,
File
,
Flock
,
Galaxy
,
Google
,
Image
,
iOS
,
iPhone
,
iTunes
,
Lieb
,
Mobile
,
Phone
,
Photo
,
Play
,
Project
,
Purchase
,
S3
,
Samsung
,
Save
,
Share
,
Sharing
,
Smartphone
,
Social
,
Store
,
Tap
,
Tapping
,
Transfer
,
Video