Google seems to be angling for a slice of Apple's pie, unveiling a universe of interconnected Pixel-branded gadgets across an ecosystem of watches, earbuds, smartphones and tablets. The Google I/O developers conference previewed next-generation Pixel 7 and 7 Pro smartphones, a new tablet and the highly anticipated Pixel Watch smartwatch. The company also showcased Pixel Buds Pro with noise cancellation and the budget Pixel 6a smartphone, ending with a teaser for AR glasses that translate languages. Google CEO Sundar Pichai led the Wednesday event, talking up the new Immersive View, coming soon to Maps.
Combining satellite views with street views, Immersive View lets you zoom in and fly through both exterior and interior locations. Immersive View "uses 'billions of photos' to model buildings and trees in 3D using machine learning. The new view lets users understand a city's topography, rotate their perspective to look between buildings, and see traffic and weather conditions at different times of day," reports CNET.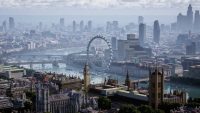 "Maps overlays its live busyness and traffic info, so you get a quasi-augmented reality look at whatever park or street corner or beach spot you're looking at," writes The Verge, explaining the real time veneer.
The New York Times concluded that with Immersive View and a feature called Multisearch, which Google unveiled in April, the Alphabet unit is commercializing "the deep technological work Google has done for years using so-called machine learning, image recognition and natural language understanding."
A new Google Docs feature that uses AI to summarize long documents into one paragraph was also well-received by the in-person crowd consisting primarily of developers and employees that convened at the Shoreline Amphitheater, an outdoor venue in Mountain View. The 2-day event was live-streamed for everyone else. The corporate image projected there struck NYT as "pragmatic and sensible — a bit more like its business-focused competitors at Microsoft."
"Next year, Google will add a large-screen Pixel tablet to the family. The company also teased a prototype for augmented-reality glasses that translate spoken conversations in real time, but it didn't promise a ship date or any other availability," The Wall Street Journal reports, comparing the new Android ecosystem to that of Apple, but with "mind-boggling AI-powered features that put Apple's Siri and Samsung's Bixby to shame."
Though Pixel smartphones account for only 2 percent of the North American smartphone market, according to StatCounter, WSJ says "the Pixel minority is growing," citing Google senior vice president of devices and services Rick Osterloh as saying "that the often out-of-stock Pixel 6 and 6 Pro were the fastest-selling Pixels ever," with global supply-chain problems blamed for suppressing sales.
The Pixel Watch, the culmination of Google's $2.1 billion purchase of Fitbit, goes up against what Counterpoint Research says is the Apple Watch's dominant 30 percent slice of the global smartwatch market. The Pixel Buds Pro are a high-end addition to Google's lineup. In addition to active noise cancellation they have "a transparency mode to let outside sounds in," notes WSJ, adding they "can be connected to multiple Bluetooth devices simultaneously."
On the B-to-B front, Google talked-up "the public preview of a full cluster of Google Cloud's new Cloud TPU v4 Pods," according to TechCrunch, which says Google calls the pods "the world's largest publicly available ML hub in terms of cumulative computing power, while operating at 90 percent carbon-free energy."
Related:
Google's Life-Changing AR Smart Glasses Demo Gave Me Shivers, Digital Trends, 5/11/22
Pixel 6A 5G: Design, Specifications, Release Date, and More, Digital Trends, 5/11/22
Google Brings Phishing Detection to Docs, Sheets and Slides, TechCrunch, 5/11/22
Google Is Remaking Search, Maps for the TikTok Generation, Bloomberg, 5/11/22
Google Creates Wallet App for Credit Cards, Tickets, Car Keys, Bloomberg, 5/11/22
Google Maps Challenges Apple's 3D Mode with a New 'Immersive View' for Cities, TechCrunch, 5/11/22
Google's Pixel Watch Is Real and It's Coming Soon, Digital Trends, 5/11/22
Google Tweaks Its Products for New Reality: Hybrid Work, The Washington Post, 5/11/22
Topics:
Alphabet
,
Apple
,
AR Glasses
,
Artificial Intelligence
,
Augmented Reality
,
Bluetooth
,
Counterpoint Research
,
Fitbit
,
Google
,
Google Cloud
,
Google Docs
,
Google I/O
,
Google Maps
,
Machine Learning
,
Microsoft
,
Noise Cancellation
,
Pixel
,
Pixel 6a
,
Pixel 7
,
Pixel 7 Pro
,
Pixel Buds Pro
,
Pixel Watch
,
Rick Osterloh
,
Smartphone
,
Smartwatch
,
StatCounter
,
Sundar Pichai