Launched less than four years ago, Google Play has become much more than the official Android app store, establishing itself as a top retailer in home entertainment. Users treat it like a digital media store, where they can buy movies or TV shows digitally — often sooner than they can on Netflix or other streaming services. Google is now selling movies in 117 countries. Next, Play Movies & TV will be offering 4K for over 125 movies in its collection, for sale via Web or mobile.
Variety, which will honor Google Play with an Innovation Award at its Home Entertainment & Digital Hall of Fame ceremony, quotes Google head of worldwide movie & TV partnerships Jonathan Zepp as stressing that, "since our launch we have worked to constantly iterate and improve the experience for consumers."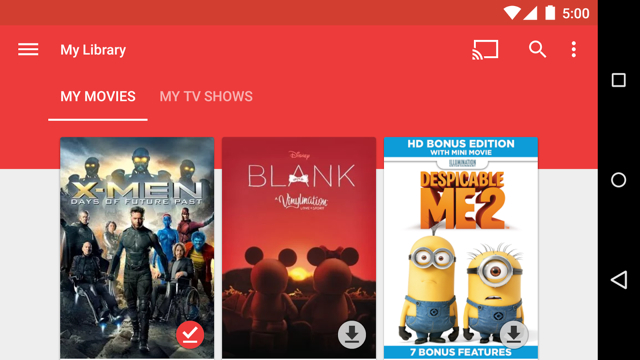 Selling in 117 countries, says Zepp, makes Play Movies & TV offerings "available in more markets than any other transactional service in the world right now." Zepp has been behind the company's growth in electronic sell-through and video-on-demand, and "played a key role in securing transactional partnerships with Disney, Fox, HBO, and Paramount."
In an industry in which movie rental seems to dominate, Zepp believes in digital ownership. "The subscription streaming model offers a compelling value proposition for many users, but a lot of great content is not available in that model," he said. "That is especially true for users who value earlier access to the most popular new release movies. We are thinking a lot about how to make this awareness more intuitive within our ecosystem."
With regard to the launch of 4K, TechCrunch reports that such movies can be streamed via Chromecast Ultra, Sony Bravia Android TV, and Xiaomi Mi Box 3. Introduced earlier this year, Chromecast Ultra, which is priced at $69, is "the first member of the Chromecast family to support 4K and HDR video streaming." Google is offering one 4K movie for free with the purchase of the Chromecast Ultra.
Netflix and Amazon Video launched their support of 4K in 2014, and Hulu just stated it will release its originals and 20 James Bond films in 4K. With the slow adoption of 4K in the U.S., notes TechCrunch, "Google's timing won't be much of an issue."
Topics:
4K
,
Amazon
,
Amazon Video
,
Android
,
Android TV
,
App Store
,
Apps
,
Chromecast Ultra
,
Disney
,
EST
,
FOX
,
Google
,
Google Play
,
Google Play Movies & TV
,
HBO
,
HDR
,
Hulu
,
James Bond
,
Jonathan Zepp
,
Mobile
,
Movies
,
Netflix
,
Paramount
,
Sony Bravia
,
Streaming
,
Subscription
,
TV Shows
,
Video
,
VOD
,
Xiaomi Mi Box 3