Google just debuted a tool that allows users to customize their Google apps with graphics related to "Star Wars," in anticipation of the December 18 release of "Star Wars: The Force Awakens." The user chooses the dark side or light side, and Google then redecorates Google Maps, Gmail, YouTube, Search and Android Wear with lightsabers, TIE fighters and other "Star Wars"-themed iconography. Google promises more "Star Wars" tweaks prior to the opening of the movie, which is expected to top "Avatar" in ticket sales.
Bloomberg notes that, "Google is joining companies from toymakers to game developers seeking to benefit from what is set to be the year's biggest debut." BoxOffice.com estimates the film — the first "Star Wars" since Disney acquired Lucasfilm in 2012 — could be "the all-time U.S. box office champ" with $762 million in ticket sales.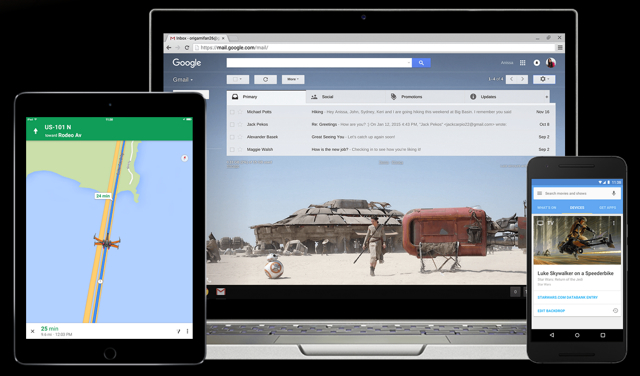 Bloomberg also opines that Google's "Star Wars" efforts are an attempt to "one-up Apple Inc. in their competition to win over users," as well as to "incorporate more mobile apps into the desktop experience."
Google head of product management Clay Bavor notes that another "Star Wars" promotion coming before opening night is "the Millennium Falcon in all its (virtual reality) glory included," perfectly paired with Google's Cardboard VR system.
Quartz reports a find by The Verge: Google has also plugged "Star Wars"-related events into everyone's calendars. Google didn't comment on how many events it's added or when the promotion will end. "But it's possible that you'll be receiving event alerts for movies that come out long after you're dead," says Quartz.
Want out of the "Star Wars" hoopla on Google? Quartz figured that one out: "You can turn the 'Star Wars' bonanza back off in the same place you turned it on — just choose neither the light nor the dark side." It also notes that the page has a bar chart (made of lightsabers) that shows how many people have chosen each side. "It does seem that the general Internet population worryingly favors the dark over the light," it notes.