At this week's Game Developers Conference in San Francisco, Google introduced Stadia, a service that streams video games from the cloud to smartphones, tablets or computers with a Chrome browser or a TV using a Chromecast Ultra device. Google chief executive Sundar Pichai said people watching a video game on YouTube could simply click to join it. The company did not state whether the service would be compatible with Apple devices. The service is slated to launch later in 2019. Gaming, dominated by consoles, brings in $130+ billion yearly.
The Wall Street Journal reports that, "Google is trying to … [do] for video games what Netflix and Spotify Technology did for movies and music: Let people consume content without needing to buy a physical copy or even to download a file."
Jeffries analyst Tim O'Shea deemed the mode "a threat to anyone selling a traditional console," which includes Sony, Nintendo and Microsoft. Microsoft is already working on its own streaming platform for Xbox, and Sony lets subscribers stream older games. Google's model could mean lower prices for consumers, since, "traditionally, game publishers pay a percentage of sales to have their wares playable on consoles."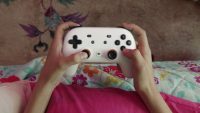 "Every console cycle you have to win over your audience," said Benchmark analyst Mike Hickey. "If there's a viable streaming service that's easier and cheaper than a console, people are going to take a hard look at it." O'Shea noted that, "Google didn't say whether it would charge players a fee to access Stadia" or offer a monthly subscription plan, "a move many on Wall Street and in the industry were anticipating."
Google also revealed it is opening its own game creation studio, led by Jade Raymond, who worked on "Assassin's Creed." "The differentiator is going to be who has the best content, as it's always been," said BTIG analyst Brandon Ross. "You need the third-party tent poles and then you stand out with your own must-have exclusive content."
Stadia will support "some existing controllers" and a Google-branded controller (pictured above). Google collaborated with Advanced Micro Devices to "create a customized graphics processing unit for Stadia."
According to Google, "games will run at up to 4K resolutions with HDR, and at 60 frames per second." Some analysts believe that Stadia could attract new players who don't want to buy an expensive console. Stadia, once code-named "Project Stream," was publicly tested last fall.
Wired reports that Stadia can take advantage of Google ownership of YouTube, where 50 billion hours worth of game content was played in 2018. It adds that Stadia will also support Surround Sound. Google's controller "has an assistant button so players can get in-game help from Google Assistant, and a capture button to save or share stream gameplay directly to YouTube" privately or publicly. The controller uses "a 3.5mm headphone jack for audio and has a USB-C port to connect to local screen devices, but does not support Bluetooth for audio."
In addition to YouTube, Google mentioned "Gmail, Twitter, Facebook, Discord chats, text messages, and even search results as starting points" for a game.
Related:
Google's Stadia Announcement at GDC 2019 in Under 14 Minutes, Engadget, 3/19/19
Stadia Is About the Future of YouTube, Not Gaming, The Verge, 3/20/19
Google Just Showed Us the Future of Gaming, OneZero, 3/19/19
Can Google Create the Netflix of Gaming?, Bloomberg, 3/18/19
Topics:
4K
,
AMD
,
Apple
,
Assassin's Creed
,
Benchmark
,
Brandon Ross
,
BTIG
,
Chrome
,
Cloud
,
Console
,
Game Developers Conference
,
Gaming
,
GDC 2019
,
Google
,
Google Assistant
,
Jade Raymond
,
Microsoft
,
Mike Hickey
,
Nintendo
,
Project Stream
,
Sony
,
Stadia
,
Streaming
,
Sundar Pichai
,
Surround Sound
,
Tim O'Shea
,
Xbox
,
YouTube