Google is playing catch-up in the world of mobile messaging apps in emerging markets overseas. Facebook closed on the $19 billion WhatsApp acquisition earlier this week, and reportedly, Google may have a similar app in the works. The company plans to test its app in India and other emerging markets, which is where tech companies are now looking for growth. A messaging app from Google could help the brand find a foothold in these markets and eventually generate revenue.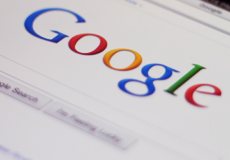 According to The Economic Times of India, Google sent Nikhyl Singhal to scout out possible markets for the new app in India and other Asian countries. The app, which is still in early stages of development, is expected to launch in 2015.
Messaging apps are popular in emerging markets because they are cheaper than SMS messaging from a cellphone wireless provider. Also, the simplicity of the apps (which are usually free of advertising) have made it very popular for first-time Internet users in countries like China and India. Google is already trying to get its Android operating system on inexpensive phones in these markets, so adding a messaging app is the next step in hooking these users.
Even though the app will be reportedly free, Google may still be able to make money from the app in the same way that Facebook does. Wired suggests that Google could generate revenue "through a new breed of low-bandwidth ad or by using data about users to target ads in other places."
Some reports say that Google lost out to Facebook in the bid for WhatsApp. Facebook paid $19 billion for WhatsApp, the largest messaging app in the world with over 600 million users worldwide and 833,000 new users signing up everyday. Other messaging apps that are popular in emerging markets include WeChat, Line and Viber.
Related Stories:
Facebook Closes $19B Deal for WhatsApp, CNET, 10/6/14
New Google Messaging App Rumored for 2015, with No Google Account Needed, Digital Trends, 10/3/14
Topics:
Acquisition
,
Advertising
,
Android
,
App
,
Asia
,
China
,
Facebook
,
Google
,
India
,
Marketing
,
Messaging
,
Messaging Apps
,
Mobile
,
Nikhyl Singhal
,
Provider
,
Smartphone
,
SMS Messaging
,
Social Media
,
Tablet
,
Targeted Ad
,
Viber
,
WeChat
,
WhatsApp