Spotify has removed streaming time limits for all users. The company announced last week that it would offer unlimited free music streaming via the platform's desktop app and on the Web. The move follow's last month's announcement that Spotify would offer free shuffled music streaming to its phone and tablet apps. Less than 24 hours after Spotify announced lifting its time restriction, competitor Rdio revealed that it would do the same in the United States.
In some countries, streaming via Spotify was limited to 2.5 hours per week. Now, anyone with a browser can explore its catalog of 20 million songs without limitations.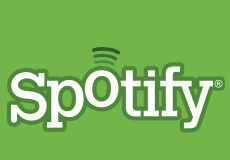 "It's still an ad-supported platform, so you'll have to endure your fair share of advertising," reports GigaOM of the Spotify announcement. "But it appears that Spotify is succeeding in creating a profitable balance between paying customers and ad-supported free listeners. That's a good sign, when some other music subscription services like Rdio are faltering."
Spotify subscribers who opt to pay $10 per month can listen ad-free.
"Spotify's latest move to bolster its streaming platform comes a month after it announced a free service for Android tablet and iPad users, as well as a free 'shuffle-only' service for those listening with smartphones," reports Digital Trends. "Both are supported by ads, though as with the Web-based service, you can lose them by paying $10 monthly."
Rdio's announcement for U.S. listeners is similar to Spotify's. "As part of this update, we've added in-stream messaging to Rdio on the Web," notes the Rdio Blog. "These new ads are short and sweet. Free listeners will hear a mix of new feature announcements, messages from partner brands, notifications about exclusive content, and other helpful tips. Our ad-free option, Rdio Unlimited, will still be available for $9.99 a month for mobile and Web access."
The moves by Spotify and Rdio were announced on the eve of the introduction of an additional player, as Beats Music launched is subscription music service this week.
In related news, Spotify is reportedly working on a new feature that uses sensors on a listener's body or smartphone to monitor heart rate and select appropriate music based on mood or activity. "The service could automatically start playing pumping music when it is time to go for a run or peaceful ambient tracks for when sleep is required," reports The Guardian.
Topics:
Ad
,
Ad-Free
,
Ad-Supported
,
Advertisement
,
Advertising
,
Album
,
Android
,
App
,
Beats
,
Browser
,
Catalog
,
Commercial
,
Desktop
,
Free
,
Guardian
,
iPad
,
Library
,
Limit
,
Limited
,
Maketing
,
Mobile
,
Music
,
Phone
,
Radio
,
Rdio
,
Sensor
,
Shuffle
,
Smartphone
,
Song
,
Spotify
,
Stream
,
Streaming
,
Subscribe
,
Subscription
,
Tablet
,
Time
,
Track
,
Unlimited
,
Web