While it is unclear if Amazon will release an Android-based gaming device besides the Kindle tablet, the company has been creating tools aimed at making game developers successful across Amazon's various app platforms. The company launched its updated portal for app and game developers, and has been investing in tools for developers to create more Android games. Amazon now features more than 100,000 apps in its Android Appstore, a significant increase from one year ago.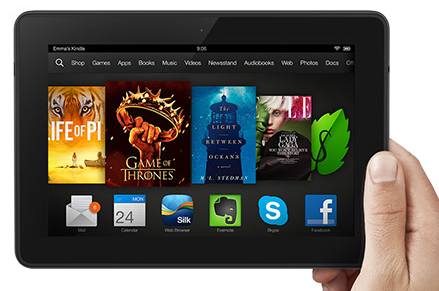 "At the recent 2014 International CES, the company rolled out a redesigned portal for app and game developers," reports VentureBeat. "Aaron Rubenson, director of the Amazon Appstore for Android and Kindle Fire, told GamesBeat in an interview that the company continues to invest heavily in tools that developers can use to publish their Android games and promote them on its platform."
"With the new developer portal, Amazon made it easier to plan, build, and submit Android apps to its Amazon Appstore," notes the article. "Developers can test their Android apps within seconds to see if they are compatible with Amazon's Appstore. Amazon's tools help developers monetize and engage audiences across Android and iOS platforms. Amazon also has a wide variety of ways to help get content discovered. Submitting apps to the portal is also easier. And Amazon is making it easier for developers to have a cross-platform strategy with their Amazon apps."
In addition, the Developer Select program offers incentives for developers who use Amazon's tools (for example: a $500 annual credit for Amazon Web Services hosting fees).
The company recently announced that its cloud-based Amazon Web Services can host games and apps with 3D graphics capabilities. It also extended its GameCircle achievements and leaderboards to iOS (for making Android games more social and discoverable), in addition to bringing its game-syncing tech, the cross-platform Whispersync for Games, to Apple's game platform.
"Amazon said that it did this because consumers have consistently asked for features that allow them to play on Amazon platforms such as the Kindle as well as on devices like the iPad and iPhone," explains the article.
"Amazon built GameCircle and Whispersync to work with AWS, removing the complexity from synchronizing and tracking data. A developer simply saves game data to a local Whispersync database and Amazon handles the rest. The free services can be integrated into a game in under an hour. It works even when data is received out of order from different devices or different versions of a game."
Topics:
3D
,
Amazon
,
Android
,
App
,
Apple
,
Apps
,
Appstore
,
AWS
,
Build
,
CES
,
Cloud
,
Consumer
,
Create
,
Develop
,
Developer
,
Device
,
Electronics
,
Fire
,
Game
,
GameCircle
,
Gamer
,
Games
,
GamesBeat
,
Gaming
,
Incentive
,
iOS
,
Kindle
,
Kindle Fire
,
Las Vegas
,
Mobile
,
Plan
,
Portal
,
Premium
,
Program
,
Programming
,
reward
,
Rewards
,
Rubenson
,
Select
,
Show
,
Social
,
Submit
,
Tablet
,
Tablets
,
Test
,
Tool
,
Tools
,
VentureBeat
,
Whispersync