Although Netflix apps are currently offered on over 1,000 devices, they have been absent from cable boxes. This week, Netflix launched an app on Swedish TiVo boxes used by the cable operator Com Hem, which allows viewers to see Netflix's catalog adjacent to live TV programming. The video service announced a similar deal with cable operator Virgin in the U.K. last year, and is working with Waoo in Denmark. Netflix is looking to pair with U.S. cable operators before the end of this year.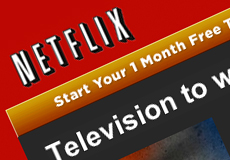 A Com Hem TiVo interface featuring the Netflix app was showcased at CES earlier this month.
"Users will reportedly be able to use their existing Netflix logins to access the service, which is how the Virgin deal worked," WebProNews explains. "In other words, these deals aren't giving cable providers access to Netflix as part of their service. They're simply providing more devices upon which existing Netflix customers can watch."
In the past, Netflix did not have similar deals in the U.S. because Netflix's licensing agreements with Hollywood studios prevented them from putting content on cable boxes used by operators.
"Netflix CEO Reed Hastings said during the company's last earnings call that the company's content deals have been renegotiated with these kinds of partnerships in mind, and Netflix is now apparently looking to get placement on boxes from U.S. operators in the coming months as well," reports GigaOM.
However, Netflix may have trouble convincing some U.S. cable operators. "Comcast cable operations CEO Neil Smith said last year that teaming up with Netflix was, 'not really a high priority' for his company," notes the post.
Topics:
App
,
Cable
,
CES
,
Com Hem
,
Comcast
,
Consumer
,
Content
,
Deal
,
Denmark
,
Electronics
,
Europe
,
Hollywood
,
Las Vegas
,
License
,
Licensing
,
Negotiate
,
Netflix
,
Operator
,
Partnership
,
Provider
,
Show
,
Smith
,
STB
,
Stream
,
Streaming
,
Studio
,
Studio
,
Sweden
,
Swedish
,
Television
,
TiVo
,
TV
,
UK
,
Video
,
Virgin
,
Waoo
,
WebProNews