Ford Motor Co. and Volkswagen AG are extending their seven-month-old alliance to include collaborating on self-driving and electric car technology. In a joint statement today, the companies announced that Volkswagen would invest $2.6 billion in Ford's autonomous-vehicle partner Argo AI by providing $1 billion in funding and contributing its Audi $1.6 billion Autonomous Intelligent Driving unit, based in Munich. In 2017, Ford invested $1 billion in Pittsburgh-based autonomous vehicle startup Argo. Once the Ford-VW deal is finalized, Argo's value is expected to reach $7 billion.
VW, the world's top automaker, is a leader in Europe and China, while Ford is strong in the U.S. Earlier this year, Ford and VW announced plans to build pickup trucks and commercial vehicles together.
"Unprecedented shifts facing the auto industry are forcing players to consider new partnerships and potential consolidation," reports Bloomberg. VW "offers the industry's most ambitious roll-out of electric models, while Ford … is developing advanced self-driving technology with Argo."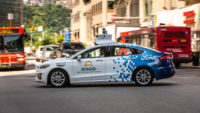 The Argo investment should give VW an opportunity to better compete with those pursuing self-driving systems, including Alphabet's Waymo, GM's Cruise Automation and Uber. The deal should also enable Ford to bring more vehicles to production and "better comply with tougher rules on carbon-dioxide emissions in Europe."
According to Bloomberg, "Ford will build at least one mass-market battery car in Europe starting in 2023 and deliver more than 600,000 European vehicles based on VW's platform, dubbed MEB, over six years."
The alliance will also provide Argo with a new global reach. "The company, which was founded by former Uber engineers with ties to Carnegie Melon University's famed robotics lab, has been testing its cars with Ford's backing in Pittsburgh, Detroit, Miami and Washington, DC," notes The Verge. "Now it can also deploy its vehicles on European roads under VW's guidance."
"While Ford and Volkswagen remain independent and fiercely competitive in the marketplace, teaming up and working with Argo AI on this important technology allows us to deliver unmatched capability, scale and geographic reach," said Ford CEO Jim Hackett.
Topics:
Alphabet
,
Argo AI
,
Audi
,
Automotive
,
Autonomous Vehicles
,
Carnegie Melon University
,
Cars
,
China
,
Cruise Automation
,
Detroit
,
Electric Vehicles
,
Europe
,
Ford
,
General Motors
,
Germany
,
Jim Hackett
,
Manufacturers
,
MEB
,
Miami
,
Munich
,
Pennsylvania
,
Pittsburgh
,
Self-Driving Cars
,
Trucks
,
Uber
,
United States
,
Volkswagen
,
Washington DC
,
Waymo