Nintendo just unveiled the Switch Lite, designed as a handheld version, priced at $199 and due out September 20. The new unit, which will cost $100 less than the original, won't be able to connect to the TV and its Joy-Con controllers are built-in. According to Nintendo of America president Doug Bowser, the two systems "complement each other and co-exist in the marketplace." The new unit is also much lighter and, with built-in controllers, feels more robust. A d-pad replaces the original directional buttons.
The Verge reports that, according to Nintendo, the new unit features "slightly" improved battery life, but wouldn't quantify that further except to say it is "due to a more power-efficient chip layout, as well as the lack of additional batteries in the built-in controllers."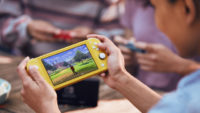 The Switch Lite, which comes in yellow, gray and turquoise as well as a light gray "Pokémon Sword and Shield" edition (which debuts November 8), "feels great to hold" and has done away with the kickstand. Though it sports a slightly smaller display (5.5-inches, versus the original's 6.2-inches), the Lite still displays 720p, as does the original Switch. Screen brightness, however, must be tweaked manually.
Other "nice touches" include "bezels and an air vent that match the color of the hardware, so they blend in better." The Lite supports W-Fi, Bluetooth and NFC and also offers built-in gyro controls and the same accessories including Joy-Con controllers, the Switch Pro Controller, and the Poké Ball Plus.
On the downside, by not being able to connect to a TV, the Lite does way with one of the Switch's most notable features. The lack of detachable controllers, HD rumble and IR sensors "create some small compatibility issues," requiring users to purchase "an additional pair of Joy-Con separately."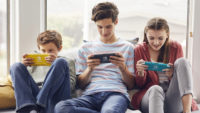 According to Bowser, the Lite builds on the success of the original Switch, which has sold almost 35 million units worldwide. The timing of the release will also take advantage of "upcoming holiday games like 'Pokémon Sword and Shield' and 'The Legend of Zelda: Link's Awakening'."
"This is the perfect opportunity for us to offer more choices, and to bring more consumers into Nintendo Switch in the third year," said Bowser. "When you tie that with the software that we just announced at E3, we've got a perfect opportunity as we head into the holiday."
Topics:
Battery Life
,
Bezels
,
Bluetooth
,
Controllers
,
D-Pad
,
Doug Bowser
,
E3
,
Game Devices
,
Gaming
,
Handheld
,
IR Sensors
,
Joy-Con
,
Kickstand
,
NFC
,
Nintendo
,
Nintendo of America
,
Poké Ball Plus
,
Pokémon Sword and Shield
,
Switch
,
Switch Lite
,
Switch Pro Controller
,
The Legend of Zelda
,
Video Games
,
Wi-Fi