The Federal Communications Commission approved in a 5-0 vote that 6GHz Wi-Fi can be used by consumer electronics and industrial sensors for manufacturing. The FCC stated that the innovations possible with the high-speed Wi-Fi will help the U.S. become the leader in 5G. Under chair Ajit Pai, the FCC has modified use of the spectrum to accommodate the demand for mobile signals — and Wi-Fi already carries most mobile traffic. With the new Wi-Fi spectrum, next-gen devices will enjoy faster, more reliable connections.
Bloomberg reports, Wi-Fi Alliance president Edgar Figueroa noted that, "it's as if we have been raised in the bicycle era … [and now] we will get proper freeways" WifiForward, an advocacy group representing Google, Microsoft, Comcast, Charter Communications and others, enthused that the ruling "will make it easier for people to stay productive and informed."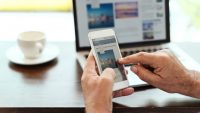 Among the opponents to the change were utilities that "use the 6GHz airwaves to manage sprawling grids and pipelines" and are concerned about interference jeopardizing their network reliability. Utilities Technology Council general counsel Brett Kilbourne stated that, "if we have to fix interference after it occurs, you can have all sorts of problems" including power blackouts.
The FCC stated that, "higher-power devices indoors and outdoors need to check FCC databases to make sure they'll not interfere with nearby utilities infrastructure."
The Verge reports that, having operated with 400MHz of spectrum, Wi-Fi is poised to gain access to 1,200MHz of spectrum in the 6GHz band. Its capability will be "up to seven maximum-capacity Wi-Fi streams to all be broadcast simultaneously and not interfere with each other — all without using any of the previously available spectrum."
Wi-Fi Alliance marketing chief Kevin Robinson reported that, "Wi-Fi connections to smartphones could hit 1-2 Gbps over these new networks," only limited by what the home Internet provider offers. Devices supporting the technology — which will be branded Wi-Fi 6E — will begin to appear by Q4 2020.
In early 2021, the Wi-Fi Alliance will offer a certifications program for Wi-Fi 6E devices, and manufacturers are ready. Among those announcing Wi-Fi 6E products are Broadcom, Qualcomm, Intel, Linksys, Netgear and Apple. According to IDC wireless analyst Phil Solis, "smartphones are likely to be the first consumer devices to adopt Wi-Fi 6E." He predicts that 316 million Wi-Fi 6E-supported devices will ship in 2021, with tablets following smartphones and TV adoption likely in 2022.
Related:
Pandemic Builds Momentum for Broadband Infrastructure Upgrade, The Wall Street Journal, 4/23/20
Carmakers Pledge 5 Million 'Talking Cars' in FCC Airwaves Bid, Bloomberg, 4/23/20
Topics:
5G
,
Ajit Pai
,
Apple
,
Brett Kilbourne
,
Broadcom
,
Charter Communications
,
Comcast
,
Edgar Figueroa
,
FCC
,
Google
,
Intel
,
Kevin Robinson
,
Linksys
,
Microsoft
,
Mobile
,
Netgear
,
Networks
,
Phil Solis
,
Qualcomm
,
Sensor
,
Spectrum
,
Utilities Technology Council
,
Wi-Fi
,
Wi-Fi 6E
,
Wi-Fi Alliance
,
WifiForward