Facebook is ramping up its social VR efforts through live video streaming. "Users of Facebook Spaces, the social hangout in virtual reality that the company launched earlier this year, can now broadcast via Facebook Live," reports Variety. "The new feature essentially allows Spaces users to host a kind of virtual reality talk show, and stream it to all of their followers, even if those audiences are tuning in with a mobile phone or a desktop browser." Slate will be the first to use the new feature to produce a weekly live show.
With the new integration of Spaces with Facebook Live, users can view 360-degree videos, draw with virtual markers, add Messenger users to conversations, and interact with audience members through Facebook Live comments.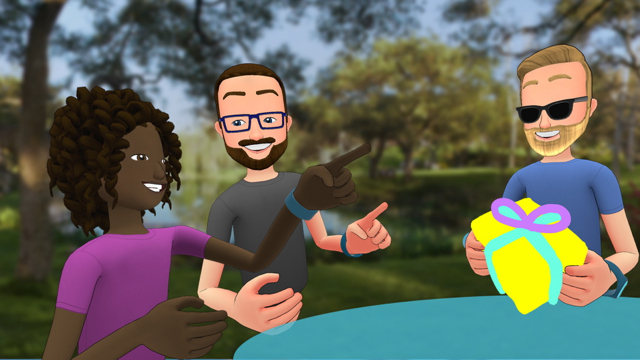 "Facebook first introduced Spaces as a way for up to three friends to meet up with the help of their avatars in VR in April," notes Variety. "Spaces users can look at videos together, teleport to 3D spaces, take selfies of their avatars and even scribble with the help of virtual pens."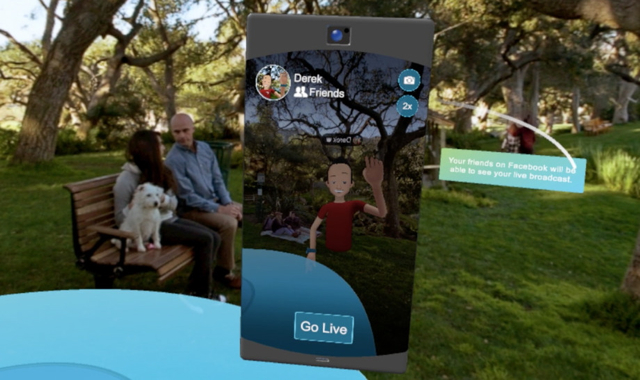 Slate's new weekly Facebook Live show "Conundrums" will be produced in VR "with actors and other celebrities joining Slate culture editor Dan Kois in the virtual world with the help of more-or-less lifelike avatars."
Guests will be quizzed on a series of questions involving conundrums; for example: "Is it better to have loved and lost, or not loved at all? Should one fight one horse-sized duck, or 100 duck-sized horses?" The interview subjects will have one minute to answer each conundrum while audience members join in with real-time comments.
The Facebook Newsroom has more info on Facebook Spaces and its new integration with Facebook Live.
Topics:
360-Degree Video
,
3D
,
Avatars
,
Broadcast
,
Browser
,
Conundrums
,
Dan Kois
,
Desktop PC
,
Facebook
,
Facebook Live
,
Facebook Spaces
,
Live Video
,
Messaging
,
Messenger
,
Mobile
,
Oculus Rift
,
Selfies
,
Slate
,
Smartphone
,
Social Media
,
Social VR
,
Streaming
,
Talk Show
,
Video
,
Video Calls
,
Virtual Markers
,
Virtual Reality
,
VR Headset