Facebook released Oculus Quest 2, a customizable VR headset priced at $299 — $100 less than its predecessor. Improved hardware includes a fast-switching LCDs with 1832×1920 resolution per eye and 50 percent more pixels than the first version. Although it doesn't have the same black levels as the original Quest's OLED screens, it offers support for an (eventual) 90Hz refresh rate; Quest 2 launches with a 72Hz refresh rate. In partnership with Ray-Ban, Facebook also plans to debut a pair of smartglasses in 2021.
Engadget reports that that Oculus Quest 2 "is powered by Qualcomm's Snapdragon XR2 processor … and it also packs in 6GB of RAM instead of 4GB." It also offers "IPD (interpupillary distance) adjustment with support for 53mm, 63mm and 68mm settings," which allows the user to customize alignment of the lenses.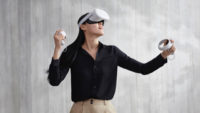 The manual method for moving the lenses, said the reviewer, is time-consuming. One downside is that Quest 2 users have to sign in with a Facebook account to use it, which means that previous Oculus users will have to merge their accounts with their Facebook profiles.
Otherwise, says the reviewer, the experience is "better in every way" with a tremendous "level of detail." "At the end of the day, there are limitations to what Oculus can do with mobile hardware, even if it's a more powerful chip," he says, noting that on the game Moss, "the textures looked muddy and simplistic … [and] the environment also lost a lot of the detail and charm." But, he adds, "if you've got a decently powerful gaming PC, you can just plug in the Quest 2" to solve those problems.
Oculus Quest 2 comes with 64GB of storage, but "if you're planning to be a power user, especially in standalone mode, then it may be worth shelling out $399 for 256GB."
ZDNet reports that Facebook is teaming up with EssilorLuxottica, owner of the Ray-Ban brand, to develop the smartglasses. No other details were released but chief executive Mark Zuckerberg noted that these glasses are "not yet AR glasses, but they're on the way there." Facebook also revealed "Infinite Office" features it plans to debut for the Oculus Quest 2 to "enable productivity."
Zuckerberg stated he's already had "his first management team meeting entirely in VR" which provided a "shared sense of space." Oculus for Business, which is built on Workplace, already offers workplace accounts and features such as "fleet management and enterprise-grade support," and is poised to rollout the Oculus for Business ISV Directory, a database with 600+ "qualified VR solution providers."
Later in the year, Facebook will also introduce Business Channels, "which let[s] ISVs deliver applications directly to customers' headsets while still giving company admins control of their deployments." Future of Work at Facebook Reality Labs director Maria Fernandez Guajardo stated, "we believe VR will be your next computer."
An enterprise version of Oculus Quest 2, priced at $799, "comes with an extended two-year warranty, one year of the Oculus for Business software platform and premium support." Facebook is also teaming up with Logitech "to bring a physical keyboard into VR."
Related:
Facebook Debuts Infinite Office, a Virtual Reality Office Space (video demo), TechCrunch, 9/16/20
Facebook Wants to Turn the Quest Into a Fitness Device, TechCrunch, 9/16/20
Facebook's Messenger and Portal Will Support Third-Party AR Effects Next Year, Engadget, 9/16/20
Topics:
Augmented Reality
,
EssilorLuxottica
,
Facebook
,
Facebook Reality Labs
,
Future of Work
,
Infinite Office
,
IPD
,
LCD
,
Logitech
,
Maria Fernandez Guajardo
,
Mark Zuckerberg
,
Oculus for Business
,
Oculus Quest
,
Oculus Quest 2
,
OLED
,
Qualcomm Snapdragon
,
Ray-Ban
,
Smartglasses
,
Snapdragon XR2
,
Virtual Reality
,
Workplace by Facebook