The Entertainment Technology Center at USC today announces the release of its latest series, "vETC | The Grand Convergence 2019: Innovation and Integration," recorded August 27-28 in Technicolor's Experience Center and Google's Spruce Goose airship. ETC's 5th annual virtual conference of significant presentations around emerging technologies and their impact on the M&E industry, the program's concentration included AI, machine learning, adaptive production, blockchain, immersive media, virtual beings and streaming. Speakers presented concepts, workflows, business models and case studies in showcasing these disruptive and enabling technologies. The videos are now available on our YouTube channel.
Some highlights include Eluvio CEO Michelle Munson's talk on reimagining video distribution, Catalog VP of marketing Nick Gold's elaboration upon DNA computing, Google's Chloe LeGendre's presentation on AR lighting, a panel on cloud technology run by Technicolor CTO Bob Eicholz, and several talks focusing on virtual beings from various industry experts.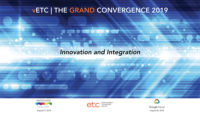 The event program is available online, featuring a full listing of presenters and topics.
The vETC series came about five years ago to fulfill the desire to populate an independent conference for emerging tech topics while implementing the virtual capabilities by expanding beyond traditional physical conference attendees. It has advanced to cover a wide breadth of mainstream topics providing great insight into early stage technologies in a TED-talk-style platform.
Unlike unrecorded conferences, there is no single audience for this video series — anyone who wishes to catch up can hear from experts as their search for knowledge drives them.
Topics:
Adaptive Production
,
Artificial Intelligence
,
Blockchain
,
Bob Eicholz
,
Catalog
,
Chloe LeGendre
,
Cloud
,
Eluvio
,
Entertainment Technology Center
,
ETC@USC
,
Google
,
Google Spruce Goose
,
Machine Learning
,
Michelle Munson
,
Nick Gold
,
Streaming
,
Technicolor
,
Technicolor Experience Center
,
vETC
,
Video
,
Virtual Beings
,
YouTube