In partnership with Amazon, Discovery Inc. is introducing a video-streaming app in late October called Food Network Kitchen. The new app will feature on-demand programming, recipe videos, interactive classes and Alexa support. For $6.99 per month (or $59.99 annually), subscribers will be provided the opportunity to attend up to 25 live, interactive cooking classes each week led by celebrity chefs such as Alton Brown, Bobby Flay, Guy Fieri, Ina Garten and Martha Stewart. "It's our mission to delight, inspire and, of course, teach our millions of viewers everything we know about food and cooking," explains Food Network.
The product announcement notes that "more than 800 on-demand cooking classes" will be available at launch. Other chefs include Giada De Laurentiis, Ree Drummond, Valerie Bertinelli and Molly Yeh.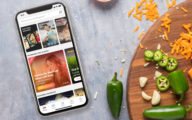 "Classes will be interactive, allowing the chef and viewer to communicate in real-time — an experience unlike any that's been offered anywhere before," the release adds.
The app will also feature a curated collection of Food Network cooking shows and step-by-step video recipes made available on a seasonal rotation, with navigation supported by Alexa voice technology.
The app will initially be available on Android and iOS mobile devices in addition to Amazon Fire Tablets, Echo Show and Fire TV. In the future it will expand to streaming devices including Apple TV, Google Chromecast, Roku and Xbox.
"Discovery's expansion into the streaming-app business comes as media industry grapples with the shift away from cable TV," reports The Wall Street Journal. As major media entities ready their own streaming services, Discovery "has gone a different route: Rather than launching a single all-you-can-eat service with scripted entertainment, as its rivals have done, the company is hedging against the decline of traditional pay-TV with several streaming services targeting different niches: food, home improvement and lovers of the natural world."
Topics:
Alexa
,
Alton Brown
,
Amazon
,
Amazon Fire
,
Android
,
Apple TV
,
Apps
,
Bobby Flay
,
Chromecast
,
Discovery
,
Echo Show
,
Fire TV
,
Food Network
,
Food Network Kitchen
,
Giada De Laurentiis
,
Google
,
Guy Fieri
,
Ina Garten
,
iOS
,
Martha Stewart
,
Mobile
,
Molly Yeh
,
Ree Drummond
,
Roku
,
Streaming
,
Subscription
,
Valerie Bertinelli
,
Video
,
Xbox