Earlier this month, we reported that ESPN is planning to shut down its ESPN 3D channel at year's end. "Due to limited viewer adoption of 3D services to the home, ESPN is discontinuing ESPN 3D," explained the company in a statement. While ESPN's top tech exec Chuck Pagano is not yet convinced that 4K TV will take off either, the sports broadcaster is setting up a technical framework for Ultra HD to prepare for its eventuality.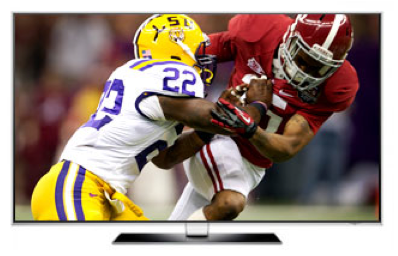 "We are committing our 3D resources to other products and services that will better serve fans and affiliates," noted the company statement two weeks ago. "Nobody knows more about sports in 3D than ESPN, and we will be ready to provide the service to fans if or when 3D does take off."
"I was never convinced that it was worthy of a full-time network. We may have overloaded people somewhat," said Pagano, EVP and CTO of ESPN, in a recent interview. "We gave it a shot to see where it landed. It's simple: there wasn't a demand curve for it," he said. If 3D TV makes a comeback, "we'll at least be ready to entertain it again."
"It's still too early to say if I'm bullish or not," he said about 4K. "I'm sort of in the middle of the road on 4K right now, because there are still a lot of variables that need to be delineated. There is still a minimal ecosystem for us to do anything with 4K."
The 4K production system relies on equipment such as switchers and graphics engines that are still in development. Vendors have suggested that some of these components will not be available in necessary quantities until 2015.
"Right now I have too many cogs between the two ends of this ecosystem. I've got a camera and I've got a TV set," said Pagano. "There's still a lot of things to figure out before we can say we're going to be playing in this space or not yet. We're actively looking [at 4K], but I can't tell you I have a date in mind."
Pagano and his colleagues have questioned whether average consumers can tell the difference between 4K and regular HDTV unless they are viewing content on a very large screen.
"Those TVs will also need to support higher frame rates to get a fuller experience," reports Multichannel News. "Most TVs use an HDMI 1.4b-complaint interface that supports up to 24 frames per second. While that works fine for film, live television will likely need to support a minimum of 60 frames per second — a function that should be supported in the emerging 2.0 version of HDMI."
Pagano notes that H.265/High Efficiency Video Coding [HEVC], which is 50 percent more efficient than H.264/MPEG-4 will be a "key ingredient if we decide at some point to go with 4K."
ESPN has been experimenting with 4K production, including dynamic digital zooming and scanning via 4K cameras for the NBA finals, and is building a 190,000-square foot digital production facility with five studios in Bristol, Connecticut. DC2, as it's called internally, is scheduled to launch next year and will become the new home for "SportsCenter."
Topics:
3D
,
4K
,
4K TV
,
Bristol
,
Cable
,
Chuck
,
Connecticut
,
CTO
,
DC2
,
ESPN
,
ESPN 3D
,
Frame Rate
,
Graphics
,
HD TV
,
HDMI
,
HDTV
,
HEVC
,
High Definition
,
MPEG-4
,
Pagano
,
Production
,
Sports
,
SportsCenter
,
Switcher
,
Television
,
TV
,
UHD
,
Ultra HD