The dispute between Apple and Epic Games over in-app payments has heated up, with the "Fortnite" game developer accusing Apple of threatening to remove it from the Apple Developer Program, thus blocking its access to iOS and macOS developer tools. Apple said it would do so by August 28 if Epic Games does not comply with its App Store rules. Epic has asked a federal judge to issue a stay, claiming the ban would cause "unquantifiable and irreparable" damage to the company and its 350 million registered players.
The Wall Street Journal reports that, "being shut out from accessing Apple's developer tools would restrict Epic from sending updates to 'Fortnite' players and users of its Unreal Engine on Apple devices." According to App Annie, the worldwide mobile app economy last year was $120 billion, meaning the stakes are high in this legal struggle.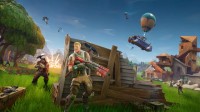 The dispute began when Epic Games violated App Store rules by adding an in-app payment to "Fortnite." The game was kicked out of the App Store and Google Play, which led Epic to sue Apple and Google in California federal court for "monopolistic behavior." Both app stores take a 30 percent fee, which Apple and Google say accounts for "e-commerce security and user privacy."
Epic Games chief executive Tim Sweeney freely admitted that its in-app payment was "designed to circumvent the 30 percent commission for in-app purchases." The company revealed that, "through Sunday, more than half of iOS 'Fortnite' players who made in-app purchases chose Epic's direct payment system," which offered gamers a 20 percent discount on its virtual currency used to purchase items.
As a free game, "Fortnite" makes money via in-app purchases and special game modes. Epic noted that if users of its Unreal Engine are prevented from updating iOS and macOS devices, it would impact not just gamers but the many different industries that use the game engine, including Hollywood VFX.
Bloomberg reports that Apple stated that, "the problem Epic has created for itself is one that can easily be remedied if they submit an update of their app that reverts it to comply with the guidelines they agreed to and which apply to all developers." "We won't make an exception for Epic," it added.
Epic's lawyers countered that, "the court can order that while its practices are being litigated, Apple cannot retaliate by blocking 'Fortnite' and tools for the Unreal Engine and harm the hundreds of millions who — especially in this time of social distancing — use Epic's software to play, build and stay connected." IDC research director of gaming Lewis Ward stated that Apple's action is "likely to be perceived as an overkill response."
"They are supersizing the confrontation," he said, adding that "other app developers that use Unreal Engine may be held liable for what 'Fortnite' did," escalating the dispute even further. The removal of "Fortnite" could also lead to Apple and/or Google removing Epic's other games such as "Shadow Complex Remastered."
Topics:
App Annie
,
App Store
,
Apple
,
Apple Developer Program
,
Commission
,
Developers
,
E-Commerce
,
Epic Games
,
Fortnite
,
Game Developers
,
Gaming
,
Google Play
,
IDC
,
In-App Payments
,
iOS
,
Lewis Ward
,
macOS
,
Mobile
,
Shadow Complex Remastered
,
Software Updates
,
Tim Sweeney
,
Unreal Engine
,
VFX
,
Virtual Currency