DreamWorks Animation has signed a multiyear deal to produce original series for streaming video service Netflix. While financial details were not disclosed, the companies announced yesterday that more than 300 hours of programming are planned to debut exclusively on Netflix. A kids' show based on DreamWorks' summer movie "Turbo" will debut online in December. Netflix will also replace HBO as DreamWorks' premium subscription video partner, beginning with this year's theatrical releases.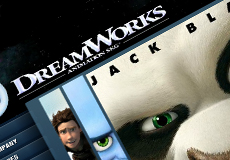 "The agreement is the latest in the hotly competitive market for streaming content, with major services like Netflix, Hulu and Amazon vying to capture viewers who are gravitating to the Web, especially younger ones," notes The New York Times.
"The shows will be based on characters from existing and coming DreamWorks films, which include 'Shrek,' 'Madagascar' and 'Trolls,' as well as its Classic Media library, which has characters such as Lassie and Casper, the Friendly Ghost," reports The Wall Street Journal. "The first series is expected to launch in 2014."
"The deal is part of a larger initiative by Jeffrey Katzenberg, chief executive of DreamWorks Animation, to diversify his company beyond the unpredictable film business," notes WSJ. "Previously, DreamWorks has made deals for individual series based on its movies with Viacom Inc.'s Nickelodeon and Time Warner Inc.'s Cartoon Network."
Following the announcement, Netflix shares were up more than 7 percent, while DreamWorks Animation shares rose about 4 percent. Katzenberg is expected to outline his new TV strategy in a conference call today.
DreamWorks parted ways with HBO in 2011 and has been distributing films and TV specials via Netflix. Disney and Pixar previously announced that their new films will also move to Netflix from Starz in 2016.
With the new deal, content from DreamWorks Animation will help Netflix with childrens' programming (Netflix lost Nickelodeon shows when it failed to renew its contract with Viacom this year).
According to WSJ: "For Netflix, the deal reflects Chief Executive Reed Hastings' increasing focus on original series and other exclusive content, and waning hunger for what he has called 'nonexclusive, bulk content deals,' such as broad deals for large caches of TV shows and movies that have appeared on other TV networks."
Topics:
Amazon
,
Animation
,
Cable
,
Cartoon
,
Children
,
Deal
,
Disney
,
Distribution
,
DreamWorks
,
DWA
,
Film
,
HBO
,
Hulu
,
Katzenberg
,
Kids
,
Madagascar
,
Movie
,
Netflix
,
Nickelodeon
,
Pixar
,
Production
,
Shrek
,
Stream
,
Streaming
,
SVOD
,
Television
,
Time Warner
,
Trolls
,
Turbo
,
TV
,
Viacom
,
Video
,
VOD