Until now, Disney had separate Watch apps for children 2-14 that featured entertainment content from the Disney Channel, Disney XD and Disney Junior. Now, the company has consolidated all three into a single app, thus boosting its pay-TV business. DisneyNOW will offer full episodes and live streaming from all the networks to customers whose cable, Internet TV, satellite or telco providers are participating. In addition to DisneyNOW, the company reportedly plans to create its own movie streaming service when its deal with Netflix expires in 2019.
Variety reports that, "DisneyNOW also provides customization and personalization features, including a 'Disney Junior Only Mode'," and that "Disney Channels is selling custom sponsorship opportunities for the app, which can include sweepstakes and interactive-video ads."
"The decision to consolidate our Disney Channel 'Watch' apps into the new DisneyNOW app was driven by what kids told us they want in a video experience," said Disney Channels vice president of digital media Kimberly Hicks, who added that the new app "enables us to showcase great stories and characters, and bring the magic of Disney Channel, Disney XD and Disney Junior to their daily lives." The company also says that, "the three Disney Channel-branded Watch apps have been downloaded more than 40 million times since they debuted in 2012."
Other features of DisneyNOW include user profiles with Disney emoji avatars; more than 60 games and activities, with new games added monthly; and a range of Disney Channel original movies. The app is available now for "iOS and Android mobile devices, Apple TV, Amazon Kindle and Roku players," with versions for Amazon Fire TV, Android TV and Internet access set to launch in 2018.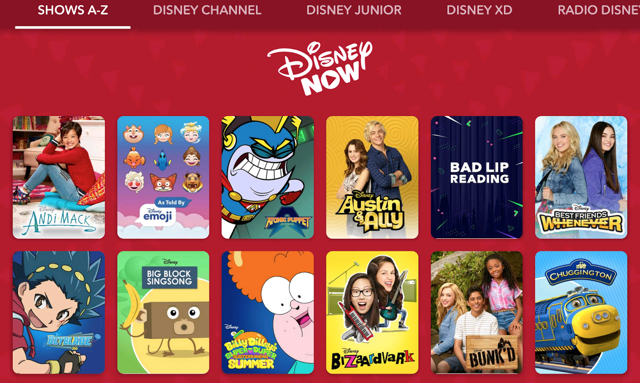 SlashGear notes that user profiles will "have their own watched videos history and can simply resume where they left off when the come back to the app," a feature that raises "questions about Disney's ultimate plan in the video streaming market," and the company's "still unconfirmed plans to have its own streaming business." DisneyNOW, with "the ability to create multiple user profiles," could "become the gateway to that service." Disney's release can be read here.
Variety also notes that Fox Networks Group "executed a similar move" to Disney's consolidation of apps; its "updated Fox Now app brings together shows from Fox, FX and National Geographic together for the first time on a digital platform."
Topics:
Advertising
,
Amazon Fire TV
,
Amazon Kindle
,
Android
,
Android TV
,
Apple TV
,
Apps
,
Avatars
,
Disney
,
Disney Channel
,
Disney Junior
,
Disney XD
,
DisneyNOW
,
Emoji
,
Fox Networks Group
,
Fox Now
,
FX
,
Gaming
,
Interactive Ads
,
Internet TV
,
iOS
,
Kimberly Hicks
,
Movies
,
National Geographic
,
Netflix
,
Pay TV
,
Radio Disney
,
Roku
,
Satellite
,
Streaming
,
TV Shows
,
Video