Disney/ABC Television Group and Yahoo have announced a partnership extension that will integrate each other's content across various properties. Clips from popular ABC series (including "Scandal," "Jimmy Kimmel Live" and "Dancing with the Stars") will be accessible via Yahoo Screen and Yahoo TV, while different segments of "Good Morning America" will feature content from Yahoo's digital magazines and properties such as Flickr and Tumblr. ABC News and Yahoo News plan to "deepen their collaboration on major news events."
GMA's new daily 'Yahoo Your Day' series "will feature Yahoo's top editors and experts, including Yahoo Style editor-in-chief Joe Zee, Yahoo Beauty editor-in-chief Bobbi Brown, Yahoo Health editor-in-chief Michele Promaulayko and Yahoo Food editor-in-chief Kerry Diamond," notes the press release.
Meanwhile, Flickr images will be used for the morning show's weather reports, and Tumblr will be used for its 'Social Square' segment.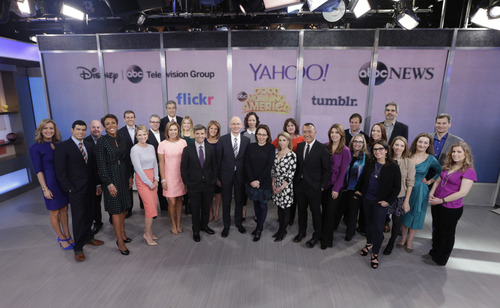 "In addition, Yahoo News and ABC News will deepen their collaboration on major news events, including the 2016 presidential election, and content from Yahoo Global News Anchor Katie Couric will be distributed across ABC News," the release adds.
TechCrunch points out that Yahoo CEO Marissa Mayer has been emphasizing video, mobile, native ads and social as the company's key growth areas.
"Video is incredibly important as we look at how to reinvent our large legacy display business for the future," Mayer said in January. "Video is key, because it is an essential and familiar way for marketers to deliver their messages."
Topics:
ABC
,
ABC News
,
Bobbi Brown
,
Dancing with the Stars
,
Digital Magazines
,
Disney
,
Disney/ABC Television Group
,
Flickr
,
GMA
,
Good Morning America
,
Jimmy Kimmel Live
,
Joe Zee
,
Katie Couric
,
Kerry Diamond
,
Marissa Mayer
,
Michele Promaulayko
,
Mobile
,
Scandal
,
Social Media
,
Tumblr
,
Video
,
Yahoo
,
Yahoo News
,
Yahoo Screen
,
Yahoo TV
,
Yahoo Your Day