During Sundance Film Festival 2021 (January 28 – February 3), Disney Media & Entertainment Distribution and Disney Television Animation is showcasing an interactive short — "Baymax Dreams of Fred's Glitch" — that plays via Nvidia's GeForce NOW streaming service. The game-like short features the cast from "Big Hero 6" and challenges the viewer to fix Fred's destructive "glitch" and Baymax's programming. "Baymax Dreams" is part of the New Frontier Alliance Showcase at Sundance. GeForce NOW, officially unveiled in 2015, recently launched for the Chrome web browser and M1 Macs in beta.
Engadget reports that, "throughout the short, you'll see a variety of markers that let you scrub away the glitch … [which] feel like quick time events (QTEs) — tiny moments of interactivity that stops the experience from becoming too stale."
According to Nvidia, "these elements allow the audience to do more than just choose the path of the story — it gives them agency, [adding that] characters in the episode can respond positively or negatively depending on the speed and efficiency of participation." The short is now limited to iPhone and iPad via Safari, and "the interactive portions are touch-only."
Nvidia reports that, "the 'Baymax Dreams' experience is the first premium, interactive, 3D-animated content of its kind," and that it also features "touch interaction and is fully remote-rendered on our GeForce NOW cloud gaming servers."
With GeForce NOW, it adds, "real-time content is streamed to a user's device in a fraction of a second … Participants can have a high-quality experience regardless of how powerful or modern their device might be." It notes that "Baymax Dreams" is also "the first native touch experience streaming on GeForce NOW … [and] something Nvidia will bring more of to the cloud in the future."
Disney Media & Entertainment Distribution director of content technology Kaki Navarre noted that, "by embracing new technologies and methods, like Nvidia RTX GPUs and interactive streaming with GeForce NOW, we can free [Disney] content creators from the processing limitations of client devices, advancing what is possible from a computational perspective, which grants significant creative freedom in how stories can be brought to life for an audience."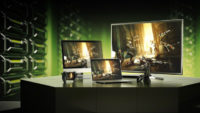 The Verge reports that it tested the Chrome browser version of the GeForce NOW streaming service on both a Mac and a Windows 10 PC "and it seems to be running smoothly." "Now, theoretically anyone with a Chrome browser can start streaming by heading GeForce NOW's site and creating an account, even on a weak laptop," it says, comparing GeForce NOW to "a PC in the cloud" similar to Google Stadia and Amazon Luna.
Topics:
3D
,
Amazon Luna
,
Animation
,
Baymax Dreams of Fred's Glitch
,
Big Hero 6
,
Chrome
,
Cloud
,
Cloud Gaming
,
Disney
,
DMED
,
DTVA
,
GeForce NOW
,
Google Stadia
,
Interactive
,
iPad
,
iPhone
,
Kaki Navarre
,
M1 Chip
,
Macs
,
New Frontier
,
Nvidia
,
RTX GPUs
,
Safari
,
Streaming
,
Sundance Film Festival
,
Video
,
Windows 10