The Disney Movies Anywhere app, which launched for iOS and the iTunes Store earlier this year, will now be available for Android and Google Play. Consumers who purchase Disney, Pixar, or Marvel Universe movies via Google Play will have their content automatically added to an account to be joined by anything they have purchased on iTunes or redeemed using digital copies that come with DVDs and Blu-rays. Interestingly, movies purchased via iTunes will appear in the Google Play app and vice-versa.
According to The Verge, "regardless of which platform you're using, all the movies will be available through the native Android and iOS video apps as well as the Disney Movies Anywhere app."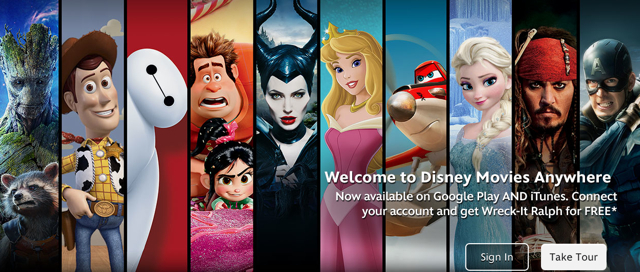 "When you create a Disney Movies Anywhere account on Disney's site (or in Disney's iOS and Android apps), you're now given the option to link both your iTunes and Google Play accounts to it," explains the article. "Once those accounts are added, you'll be able to play of those Disney movies through the Disney Movies Anywhere app or on Disney's site, regardless of where you first purchased them."
UltraViolet has also attempted to provide access to content while bypassing cross-platform barriers, but the initiative has yet to work with native Android and iOS video apps.
Disney Movies Anywhere is not available for Windows Phone users, and does not include online retailers such as Amazon. However, Disney CTO Jamie Voris said the company plans to continue adding more partners.
The Verge suggests that, "having both Apple and Google on board means Disney is probably offering the best cross-platform movie-watching solution available."
Topics:
Amazon
,
Android
,
Apple
,
Blu-ray Disc
,
Cross Platform
,
Disney
,
Disney Movies Anywhere
,
DVD
,
Google
,
Google Play
,
iOS
,
iTunes
,
Jamie Voris
,
Marvel Universe
,
Mobile
,
Movie
,
Native Video Apps
,
Pixar
,
Smartphone
,
Tablet
,
UltraViolet
,
Video
,
Windows Phone