The Dish Network's Internet-streaming division Sling TV is being rebranded as Sling Freestream, offering free, ad-supported streaming television (FAST) and free, ad-supported VOD in attempt to better connect with consumers who don't want to pay monthly subscription fees. Although the Sling live TV service was already free, the move sees it doubling down in the sector by expanding from 150 to 210 free channels with 41,000-plus on-demand titles. Sling Freestream users will also be able to subscribe to 50-plus standalone streaming services, including Showtime, Discovery+, MGM+ and AMC+.
By Q2, Sling Freestream plans to have more than 400 channels, according to Sling TV group president Gary Schanman, who said the service plans to add more content and app enhancements throughout the year.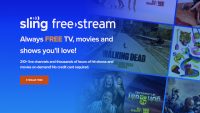 "Sling Freestream provides a premium advertising experience that benefits viewers and advertisers alike," Schanman said in a news announcement. "Built on the same advertising tech that powers Sling, Freestream is yet another opportunity for us to lead, innovate and deliver a greater impact for our advertisers."
In addition to free content, Sling will also offer "consumers the flexibility to choose the service that fits their needs, rather than settling for a costly bundle," with paid channel options including Bravo, CNN, ESPN, NFL Network, TBS, TLC, TNT and USA.
"Sling's expanded FAST and AVOD tier will serve as an on-ramp for consumers who want to subscribe to its pay-TV packages — as well as an off-ramp for those canceling their paid service so Sling can retain them as viewers, Schanman said," writes Variety.
The move follows a fall price hike by Sling TV for Internet pay-TV services that saw the cost of Sling Orange and Sling Blue each increasing by $5 to $40 per month, according to Variety, which notes that "as of the end of the third quarter of 2022, Sling TV had 2.41 million paid subscribers, down 6 percent from a year prior but a sequential increase of about 214,000."
"At launch, Sling Freestream is available through the Sling TV app on all Roku devices," reports TechCrunch, which says "it's also rolling out across LG, Samsung and Vizio devices" and "will launch across all of Sling TV's supported devices, such as iOS devices, Android devices" as well as Amazon Fire TV, Apple TV, Xbox and more in the coming months.
Topics:
Advertising
,
Amazon Fire TV
,
AMC Plus
,
Android
,
Apple TV
,
AVOD
,
Bravo
,
CNN
,
Discovery Plus
,
Dish Network
,
ESPN
,
FAST
,
Gary Schanman
,
iOS
,
LG
,
MGM Plus
,
Movie
,
NFL
,
Pay TV
,
Roku
,
Samsung
,
Showtime
,
Sling Freestream
,
Sling TV
,
Streaming
,
TBS
,
Television
,
TLC
,
TNT
,
USA
,
Vizio
,
Xbox