Insiders report that Dish Network Chairman Charlie Ergen recently contacted DirecTV CEO Mike White to discuss a potential merger of the two companies. DirecTV, the largest U.S. satellite TV operator, currently has about 20 million subscribers, while Dish, the No. 2 operator, has about 14 million. Ergen reportedly approached White in response to Comcast's proposed $45 billion acquisition of Time Warner Cable. However, White is said to be reluctant regarding formal talks out of concern that regulators would block a deal.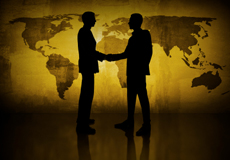 "Given the rapidly changing industry dynamics, everyone should be talking to everyone, and if you're not you might be left behind," suggests Walt Piecyk, analyst at BTIG. "I highly doubt that DirecTV is the only company that Ergen has spoken with. This should serve as a reminder to AT&T and Verizon that a strategic asset has other options that could make Dish un-buyable in the future."
"Even if regulators allow Comcast's acquisition of Time Warner Cable, DirecTV management doesn't see the cable deal as a proxy for an approval of deal with Dish," reports Bloomberg. "DirecTV and Dish's 2002 attempt to merge was blocked by regulators."
"There is obviously a business case that makes a lot of sense for consolidation in the satellite industry," Ergen said in November. "You're going to see consolidation, maybe first in the cable industry."
"While I certainly believe our industry has changed substantially and I believe there are a lot of reasons why consolidation in our industry would be pro-consumer to try and improve the balance between programmers and distributors, you still have to go sell that in Washington," said White in December.
Topics:
Acquire
,
Acquisition
,
AT&T
,
Block
,
Blocked
,
Bloomberg
,
BTIG
,
Business
,
Cable
,
Chair
,
Comcast
,
Consolidate
,
Consolidation
,
DC
,
Deal
,
DirecTV
,
Dish
,
Distribution
,
Distributor
,
Ergen
,
Federal
,
Government
,
Legal
,
Merge
,
Merger
,
Monopoly
,
Network
,
Operator
,
Piecyk
,
Program
,
Programmer
,
Provider
,
Proxy
,
Regulation
,
Regulator
,
Satellite
,
Subs
,
Subscribe
,
Subscriber
,
Subscription
,
Television
,
Time Warner
,
TV
,
TWC
,
U.S.
,
Verizon
,
Washington
,
White