Nuvyyo is developing an affordable alternative to Simple.TV's streaming DVR with its own Tablo DVR, a set-top box that streams both live and locally recorded broadcasts to Android and iOS-powered devices, as well as Roku players and Web browsers. Unlike other DVRs that often rely on cloud services or are linked to television, Tablo is an attractive option for consumers looking to cut cords altogether, and reduce long-term costs.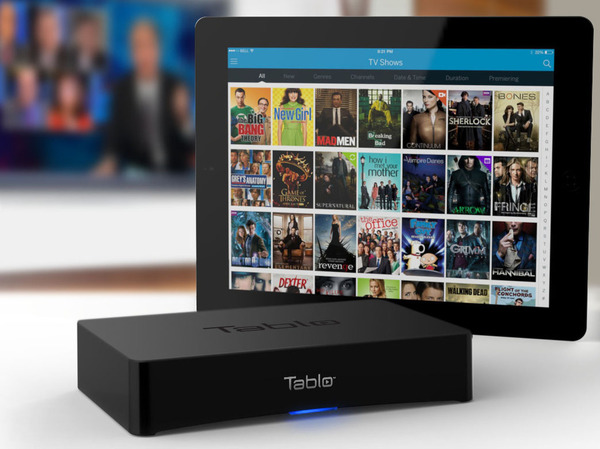 "Tablo is the first solution designed to combine the functionality of a DVR with the convenience and mobility of a tablet-based app to browse, record and stream broadcast TV content to any device, anytime, anywhere," explains the press release.
According to Engadget, dual- and quad-tuner DVR models will be available in late January at estimated costs of $200 and $250 respectively. Each will come with dual-band Wi-Fi, Ethernet, and two USB ports for external hard drives. The kicker is that the largely crowdfunded Tablo doesn't need an Internet connection to stream.
"In theory, it's as cheap and convenient as Internet-only video while delivering the wider content selection of traditional TV," Engadget reports, noting that Nuvyyo is looking into DLNA support that would allow for sending videos to consoles and smart TVs, and that movies and TV shows are easily sorted by channel and genre for easy searching.
Subscription pricing still isn't final, and the device — plus subscription costs — will be expensive up front. But Nuvyyo founder Grant Hall expects subscriptions to be around just $5 per month or $50 per year — "roughly half of what you'd pay for some streaming-only solutions," Engadget says.
Though it doesn't offer cable TV support as of yet, Tablo's other features, like the responsive apps, will be a draw. The Web app will soon be mobile-optimized and will stream over HTML5. And compared with Simple.TV, it has "more powerful hardware and a feature set that's less dependent on remotely located services," explains Engadget.
To learn more about Tablo or become a beta tester, visit the product's Indiegogo page.
Topics:
Android
,
App
,
Broadcast
,
Cable
,
Channel
,
Cloud
,
Connection
,
Console
,
Cord Cutting
,
DLNA
,
DVR
,
Ethernet
,
Grant Hall
,
HTML5
,
Indiegogo
,
Internet
,
iOS
,
Mobile
,
Model
,
Nuvyyo
,
quad tuner
,
Record
,
Responsive
,
Roku
,
Search
,
set top
,
Simple.tv
,
Smart TV
,
STB
,
Stream
,
Streaming
,
Subscription
,
Tablo
,
TV
,
USB Port
,
Video
,
Web
,
Web Browser
,
Wi-Fi