Comcast Corp. has agreed to purchase Time Warner Cable in an all-stock deal worth about $45.2 billion, in a move that will combine the top two U.S. cable operators. The boards of both companies have approved the proposed deal. The announcement likely marks the conclusion of an eight-month takeover battle waged by cable operator Charter Communications and its largest shareholder, Liberty Media. However, the proposed transaction is expected to face lengthy regulatory review.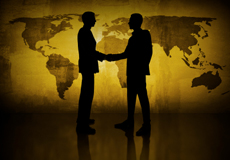 Charter's pursuit of TWC had raised the possibility of Liberty Media Chairman John Malone emerging as a rival to Comcast Corp. Chairman and CEO Brian Roberts. Until last week, there were signs that Comcast was leaning toward a deal with Charter until Roberts reached out to TWC, according to people familiar with the matter.
"In the deal, Time Warner Cable shareholders will receive $158.82 a share in stock for their shares, about $23 a share above where TWC has been trading," reports The Wall Street Journal. "Time Warner Cable shareholders will own about 23 percent of the combined entity. Charter has made three offers, the most recent of which was valued at $132.50, all of which were rejected by TWC as too low. Time Warner Cable Chief Executive Rob Marcus had said TWC wanted $160 a share."
Comcast Cable President and CEO Neil Smit will lead operations of the new company.
The deal faces regulatory barriers, since Comcast serves nearly 22 million video subscribers in the U.S., and also owns NBCUniversal. TWC serves about 11 million video subscribers.
"To reduce competitive concerns, Comcast is prepared to divest systems serving about 3 million managed subscribers and will, through the acquisition and management of Time Warner Cable systems, net about 8 million managed subscribers in this transaction," notes WSJ.
"Comcast hopes to convince regulators that because cable companies don't compete, their deal should go through," according to the article.
Topics:
Acquire
,
Acquisition
,
Barrier
,
Buy
,
Cable
,
Charter
,
Comcast
,
Communications
,
Deal
,
Federal
,
Finance
,
Financial
,
Hurdle
,
Liberty Media
,
Malone
,
Marcus
,
Merge
,
Merger
,
NBC
,
Operation
,
Operator
,
Propose
,
Provider
,
Purchase
,
Regulation
,
Regulator
,
Regulatory
,
Review
,
Roberts
,
Share
,
Shareholder
,
Smit
,
Stock
,
Subscriber
,
Subscription
,
Television
,
Time Warner
,
Transaction
,
TV
,
TWC
,
Universal
,
Video