Nvidia is introducing its next-generation cloud gaming platform, GeForce NOW, which offers GeForce RTX 3080-class gaming online. GeForce NOW RTX 3080 will make available to users what Nvidia describes as "the most powerful gaming supercomputer ever built," ready to take on Google Stadia and Xbox Cloud Gaming's xCloud. Nvidia founder and CEO Jensen Huang said the company has spent the past decade improving GeForce NOW cloud gaming "to bring the best gaming platform to anyone with a computer," thanks to second-generation GeForce NOW SuperPOD servers.
Also known as clusters, a POD (point of deliver) unit draws on a set of computers linked by high-speed networks to function as a single server. In Nvidia's press release Huang called his company's new SuperPOD configuration "a giant leap forward" for gaming.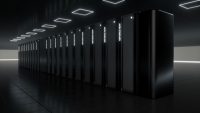 The Verge seems to agree, writing, "It's rare to get access to machines in the cloud with [performance equivalent to] the latest GPUs, especially one that PC gamers are still struggling to purchase in stores right now." The Verge points out that while RTX 3080 is part of the name, Nvidia's flagship Ampere GA102 chips are being used.
Nvidia says servers will be equipped with eight-core AMD Threadripper CPUs, 28GB of DDR4 memory, Gen4 SSD and 35 teraflops of GPU, "which is roughly three times what an Xbox Series X is capable of," The Verge writes. Based on the pre-release specs, the extremely low-latency RTX 3080 gaming PODs' performance "should beat the majority of game consoles, PC gaming rigs, and competitors" in the cloud. The RTX class is powered by Nvidia Turing, enabling real-time ray tracing and AI.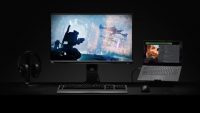 GeForce NOW RTX 3080 is capable of streaming games on Windows, macOS, Android, iOS and Android TV. PCs and Macs will stream at up to 1440p resolution with 120fps while those using Nvidia's Shield TV can get 4K HDR at 60fps.
The GeForce NOW RTX 3080 membership is initially being offered on preorder to Nvidia's existing Founders and Priority members in North America and Europe, where six-month memberships cost $99.99. The service is scheduled to go live in North America in November and across Europe in December. Nvidia is marketing the memberships as "limited," but says it expects preorders will open to all gamers later this month.