Snapchat is blaming Apple's new digital advertising policy for what it predicts will be a slow Q4. Changes including an iOS rule letting users opt-out of ads make it difficult for advertisers to test campaigns and measure results, Snapchat claims. The prediction came as Snap Inc. released Q3 results, announcing $1.067 billion for quarterly revenue, just short of the $1.07 billion expected. Snap exceed its Q3 goal for daily active users, which hit 306 million, beating by 5 million its Q2 estimate. Despite a 57 percent revenue year-over-year increase, Snap stock value dropped significantly.
Snap stock fell to about $57 per share after closing at roughly $75 on Thursday, according to The Wall Street Journal. The fact that the decline came despite a 77 percent revenue increase for the first nine months of the year as compared to the same period in 2020 emphasizes the unforgiving nature of the financial sector.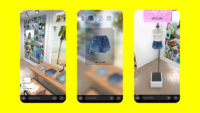 Snapchat's near-miss and expectation of continued slow growth had a ripple effect on the market, where Facebook, Twitter and Alphabet stock also declined in after-hours trading, albeit far less dramatically. One analyst attributed the results to a flaw in Snapchat's business model. "This shows the Achilles' heel in Snap's model … a lack of massive first-party data, which is what you need to be successful in this business," Truist Securities analyst Youssef Squali said in WSJ.
But one WSJ columnist says Snap is getting short shrift, the bigger picture of its Q3 release lost in the moment. Citing the 23 percent year-over-year daily active user growth that exceeded projections, the columnist writes: "Advertisers want to be where users are, so that growth should pay off once macroeconomic issues resolve."
The columnist goes on to compare Snapchat to Facebook where, according to WSJ's own reporting, "young users have been shrinking slice of the company's legacy Blue app for a decade — the very demographic with which Snapchat is particularly strong."
Meanwhile, the WSJ column continues, "Pinterest's second-quarter report showed the image-sharing platform lost 24 million monthly active users on a sequential basis, casting doubt on that platform's ability to meaningfully grow its own user base in the near term."
Snap said its business was hit particularly hard in the third quarter by Apple's ad-tracking changes because direct response ads, which are designed to trigger immediate conversion, now account for more than half its ad mix. Likewise, Facebook shared with investors last quarter that direct response ads "continue to be the bulk of its business and its primary growth driver," while Twitter and Pinterest continue to rely primarily on brand advertising, according to the WSJ column.
Snap CEO Evan Spiegel said in the company's Q3 earnings press release that Snap, now in its 10th year, is "operating at the scale necessary to navigate significant headwinds, including changes to the iOS platform that impact the way advertising is targeted, measured, and optimized, as well as global supply chain issues."