Cisco recently released its annual forecast for global mobile data traffic, predicting that mobile traffic will experience tenfold growth during 2014-2019. By the end of that period, Cisco expects that 69 percent of the world's population (5.2 billion people) will be mobile users. The company also anticipates 4.6 billion smartphones, compared with 3.1 billion feature phones by 2019. The study, which also addresses connected tablets and Wi-Fi-enabled laptops, suggests that 97 percent of worldwide traffic will come from smart devices.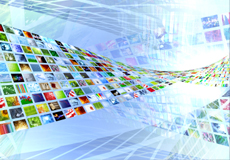 Interestingly, Cisco projects that video will be responsible for 72 percent of mobile traffic by the end of the 5-year period.
"Another important development is the amount and type of traffic that will be offloaded from conventional cellular systems to Wi-Fi and small cell networks," reports The New York Times. "Cisco said 54 percent of mobile data traffic will be on these systems, which keep carriers from congestion, but also keep them from realizing some profits, since they can't charge for Wi-Fi connections the same way."
Cisco predicts that average mobile connection speeds will be about 4 megabits per second by 2019, a jump from 2014's 1.7 megabits. "Some new devices, like wearable technology with video cameras, could put pressure even on that increased speed," notes WSJ.
Today's popular wearables, such as the GoPro camera line, use about five megabits per second when they are connected, according to Thomas Barnett, who led the Cisco study.
Topics:
Broadband
,
Camera
,
Cellular
,
Cisco
,
Connection Speed
,
Data
,
Forecast
,
Global
,
GoPro
,
Laptop
,
Mobile
,
Mobile Data Traffic
,
Mobile Device
,
Mobile Phone
,
Networks
,
Smart Device
,
Smartphone
,
Study
,
Tablet
,
Thomas Barnett
,
Video
,
Wearable
,
Wi-Fi
,
Wireless
,
Worldwide