RealD is launching a new large format brand, LUXE: A RealD Experience, with hopes of becoming the standard for premium 2D and 3D cinemas across Europe. The cinema technology company presented its LUXE initiative to exhibitors at CineEurope in Barcelona on Monday. The new packaging of LUXE technology standards for screen size, brightness, sound and seating could become a competitor to large format exhibitor IMAX.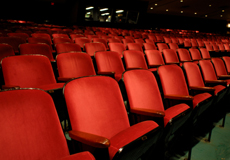 "With premium large format box office figures growing double digits year on year, it's clear that a greater number of moviegoers are demanding a premium cinema experience," said Anthony Marcoly, president, Paramount Pictures International. "RealD's new initiative… delivers the ever increasing quality expected in the evolving PLF (Premium Large Format) market for premium viewing of 2D and 3D content alike."
LUXE specifications include wall-to-wall, floor-to-ceiling screens that are at least 52.5 feet in width; 3D sound; auditorium rakes to optimize views and enhanced screen brightness for 3D projection.
"We are talking about the top five percent of cinemas, there will be many theaters that won't have the capacity or the physical dimensions to qualify," explained Robert Mayson, managing director of RealD Europe.
"RealD plans to roll out the new LUXE initiative in Europe, Russia, the Middle East and Africa," notes The Hollywood Reporter. "Europe in particular has seen strong growth in the premium segment of the cinema market."
RealD has already signed deals with exhibition partners Karo Film in Russia and Arena Cinema in Bulgaria to install multiple LUXE auditoriums.