The European Union's implementation of the Digital Services Act (DSA) and the Digital Markets Act (DMA) is poised to trigger worldwide changes on familiar platforms like Google, Instagram, Wikipedia and YouTube. The DSA addresses consumer safety while the DMA deals with antitrust issues. Proponents say the new laws will help end the era of self-regulating tech companies. Although as in the U.S., the DSA makes clear that platforms aren't liable for illegal user-generated content. Unlike U.S. law, the DSA does allow users to sue when tech firms are made aware of harmful content but fail to remove it.
Because the Big Tech firms operate globally, changes in one lucrative territory generally affect behaviors elsewhere, because it's easier to adopt global policies than to apply different rules in various areas.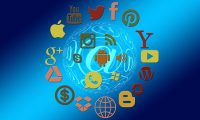 Particularly with Section 230 reform getting recent attention in the U.S., tech giants may find it easier to preemptively adopt EU-influenced safety rules here and elsewhere, rather than waiting until changes in the law require them to do so.
MIT Technology Review explains that the most impactful aspect of the DSA on Big Tech behavior is increased transparency requirements through "terms of service" reporting and regular audits as to the state of content moderation. Regulators hope these steps will inform public conversations worldwide as data about hate speech, misinformation, violence and the attendant societal risks are disseminated.
For Big Tech "companies to decide what is and what isn't forbidden without any separation of power, without any accountability, without any reporting, without any possibility to contest, it's very dangerous," Henri Verdier, the French ambassador for digital affairs, told Technology Review.
"The largest companies, with over 45 million active monthly users in the EU (or roughly 10 percent of EU population)" are designated "Very Large Online Platforms (or VLOPs) or Very Large Online Search Engines (or VLOSEs), and will be held to the strictest standards of transparency and regulation," Technology Review reports, noting "smaller online platforms have far fewer obligations, which was part of a policy designed to encourage competition and innovation while still holding Big Tech to account."
Politico confirms that "TikTok, Twitter, Facebook and Instagram have now confirmed they will face the strictest rules under the EU's content-moderation law, the Digital Services Act." The European Commission can impose fines of up to 6 percent of a company's annual global revenue if it finds that VLOPs violate DSA rules.