If CES is any indication, 2019 may be the year that voice assistants become more integrated into our daily lives. Amazon and Google went head-to-head in Las Vegas last week with a flood of partnerships touting smart home and CE devices that now support Amazon Alexa and Google Assistant. Among the products featuring voice support included LG's much-hyped rollable OLED TV; Panasonic's new 4K OLED TV; Samsung's 2019 TV lineup; Vuzix Blade AR glasses; an array of speakers, soundbars and headphones; new smart displays from Lenovo, Archos and KitchenAid; and a collection of home security devices, kitchen and bathroom appliances — even toilets.
Integration of our electronic and mobile devices with voice assistants is arguably transitioning from novelty status to a new standard, one that could reach well beyond CE and basic computing. This was evidenced by the significant presence of Amazon and Google at CES, two tech giants that haven't had a major presence at the show until recent years.
Google announced that its Assistant will be on one billion devices by the end of this month, up from 500 million last May (although it's worth noting that the majority of those devices are Android phones). The company also revealed that Assistant is now available in 80 countries and understands 30 languages. Meanwhile, support for Alexa is also growing. Thanks in part to last year's launch of the Alexa Gadgets Toolkit, Amazon announced that more than 100 million Alexa devices have already been sold.
While 100 million sounds like a small number when compared to the volume of phones that have Google Assistant or Apple's Siri pre-installed, consumers may be making more of an active choice when purchasing Alexa devices, rather than simply accepting a default feature. According to The Verge, there are "more than 150 products with Alexa built in, more than 28,000 smart home devices that work with Alexa made by more than 4,500 different manufacturers, and over 70,000 Alexa skills."
Products integrating voice assistants were prevalent at CES. LG, for example, introduced a product version of its 65-inch rollable OLED TV with a 100W Dolby Atmos soundbar as its base (below). The high-end TV features Alexa, Google Assistant, LG's ThinQ AI, and support for Apple AirPlay 2 and HomeKit.
Panasonic's GZ2000 4K OLED TV also touts built-in Dolby Atmos speakers with support for both Alexa and Google Assistant, while Samsung — which "has been a holdout with supporting Alexa and Google Assistant on its TVs since it has its own assistant, Bixby," reports The Verge — "announced that its 2019 TV lineup can recognize simple commands from Alexa or Google Assistant" as long as you "have the corresponding assistant device, like an Amazon Echo. Otherwise, the built-in voice helper is still Bixby only."
Among some of the more compelling products featuring voice assistants, The Verge listed headphones from JBL and Sony, Jabra's new over-ear Elite 85h headphones, smart displays from Lenovo and Archos, and home security products from the likes of Lockly, Ring and Schlage. Bathroom and kitchen appliances — including a $7,000 "intelligent" toilet from Kohler (below left) — were on display from companies such as Moen, Whirlpool, Gourmia and others.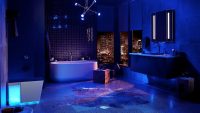 In addition to smart air fryers, countertop ovens, thermostats and coffee makers, there were also surprising products with voice interaction including a Roland piano, a gaming mouse from Razer, an Alexa-powered bed, and the Vuzix Blade AR glasses.
In its coverage of Alexa products, CNET lists the Asus Lyra Voice wireless smart speaker and mesh network router, the new 48-inch Klipsch soundbar, Gourmia's 11-in-1 Deluxe Multicooker, KitchenAid's Smart Oven, among other devices, and a number of smart home products that involve lighting, wall outlets, fan controls, locks and doorbells.
In a related article, CNET examines Google Assistant-powered products at CES, some of which include the Kohler Verdera Smart Mirror (below), KitchenAid's new splash resistant smart display, GE's new line of smart lighting called C by GE, the Instant Pot Smart Wi-Fi multicooker, and a list of devices, appliances and smart home controls similar to the Alexa list.
According to Variety, voice control will become more common with TV sets, and we should expect to "find some with far-field voice control on store shelves later this year, offering much of the same functionality as an Amazon Echo or Google Home smart speaker." Among the companies at CES that announced new models with integrated microphones for voice control were TCL (Roku TV models), Funai Corporation (under the Philips brand), and Hisense.
"Even market leader Samsung is jumping on the far-field voice bandwagon," notes Variety, but rather than "integrating microphones directly into the TV," like others, "Samsung is using the included remote control for advanced voice functionality. Samsung voice remotes will still include a dedicated microphone button, but consumers will also be able to use the microphone button-free, and call out for the company's Bixby smart assistant to help them change the channel, turn down the volume, or search for streaming content."
For those skeptical of consumer adoption of voice-controlled devices — including TVs and their remotes, eMarketer estimates that 74.2 million Americans will use a smart speaker in 2019. In addition, Adobe Analytics points out that 63 percent of smart speaker owners use their devices in the living room.
Related:
CES 2019: Amazon and Google Assistant Carve Up Tech Expo, BBC News, 1/10/19
Google vs Amazon at CES: The Battle for the Future of Voice (and Computing), Forbes, 1/11/19
Who Won CES 2019: Amazon or Google?, CNET, 1/11/19
Apple and Samsung Steal CES 2019, CNET, 1/10/19
At CES 2019, Apple Finally Sets iTunes, AirPlay Loose, CNET, 1/7/19
The Best Smart Home Devices of CES 2019, PC Magazine, 1/11/19
The New York Times Launches a Flash Audio Briefing and Other Voice Stuff for Alexa, 1/11/19, NiemenLab
Topics:
AirPlay
,
Alexa
,
Amazon
,
Android
,
Apple
,
Archos
,
Asus
,
Bixby
,
CES 2019
,
Dolby Atmos
,
Echo
,
Funai
,
GE
,
Google Assistant
,
Google Home
,
Gourmia
,
Hisense
,
HomeKit
,
Instant Pot
,
Jabra
,
JBL
,
KitchenAid
,
Klipsch
,
Kohler
,
Lenovo
,
LG
,
Lockly
,
Moen
,
Philips
,
Razer
,
Ring
,
Roku
,
Roland
,
Samsung
,
Schlage
,
Siri
,
Smart Home
,
Sony
,
Soundbars
,
TCL
,
ThinQ
,
Voice Assistants
,
Vuzix Blade
,
Whirlpool