At CES 2019, in what some are saying has become an annual battle in recent years, Amazon and Google went mano a mano, with the former's Alexa voice assistant in one corner, and the latter's Google Assistant in the other. Since the debut of the voice assistants, this sector's importance has soared, and both companies have been jockeying for dominance. Amazon stated that more than 100 million Alexa devices have been sold, while Google said its Assistant will be built into one billion devices by the end of the month.
CNET reports that those figures are somewhat misleading: "a big chunk of those billion Assistant devices are Android phones, which come with the software installed by default." Its reporters, Ben Fox Rubin, who covers Amazon, and Richard Nieva, who covers Google, described what happened at CES. Both noted that, up until two or three years ago, many of the big tech companies didn't have a presence at the show.
"I must say, it sure is adorable that Google over the past two years decided to show up at CES," said Rubin. Nieva pointed out that Google has had a bigger presence since it launched Assistant in 2016. At CES 2019, he added, Google's booth was "like a city block outside of Las Vegas Convention Center and it included a freaking It's a Small World ride."
Rubin countered that Amazon, in contrast, had "a handful of smaller booths than Google, but they seemed to be all over the place, including the LVCC in the automotive area and the Sands Expo floor." He declared Amazon "the clear winner" of the show due to the dominance of Alexa.
"Amazon announced a slew of new Alexa-powered partnerships, including the Lenovo Smart Tab tablet/smart display, Ford's new car infotainment system and even the Vuzix smart glasses," he added. "Amazon's Ring home-security team unveiled a new smart peephole camera for apartment units and motion-activated outdoor lights. And Key by Amazon … announced in-garage delivery and Key for Business."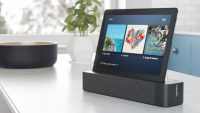 Nieva noted that Google unveiled an Assistant feature of "an interpreter mode that translates conversations in real time" and "announced some hardware that the company's partners have made," including the Lenovo Smart Clock and the KitchenAid smart display. Rubin gave in, with both concluding Google "won" the battle of CES 2019.
The two also gave respect to Apple, for making a "splash" at the show, stressing its privacy in an ad that "zinged other tech companies." Rubin highlighted Apple giving access to "its AirPlay and HomeKit technology to LG and Vizio" and bringing iTunes to Samsung's new smart TVs. Samsung also touted its "efforts to bring Bixby to its TVs, fridges, washers, air conditioners, phones and speakers … [and] revealed four new robots, including the Samsung Bot Care that can help you track your vitals."
Related:
The Biggest Amazon Alexa Products From CES 2019, The Verge, 1/10/19
All the New Alexa Products From CES 2019, CNET, 1/9/19
All the New Google Assistant Products From CES 2019, CNET, 1/8/19
Apple and Samsung Steal CES 2019, CNET, 1/10/19
At CES 2019, Apple Finally Sets iTunes, AirPlay Loose, CNET, 1/7/19
Topics:
AirPlay
,
Alexa
,
Amazon
,
Android
,
Apple
,
Ben Fox Rubin
,
Bixby
,
CES 2019
,
Digital Assistants
,
Ford
,
Google
,
Google Assistant
,
HomeKit
,
iTunes
,
Key by Amazon
,
Key for Business
,
KitchenAid
,
Lenovo
,
Lenovo Smart Clock
,
Lenovo Smart Tab
,
LG
,
Richard Nieva
,
Ring
,
Samsung
,
Samsung Bot Care
,
Virtual Assistants
,
Vizio
,
Vuzix