IBM chair, CEO and president Ginni Rometty made her second CES keynote appearance and focused on artificial intelligence, big data, quantum computing, and closing the skills gap in computer science in a series of onstage conversations. Rometty drew a distinction between big data and deep data as she explained that there is a tremendous amount of information collected for specific analysis, but there is a wealth of analytical and predictive opportunity yet available. As an example, she cited analysis of fingernails as a means of predicting health issues or weather data to better forecast mid-air turbulence.
In one of her onstage conversations, Rometty spoke with Ed Bastian, CEO of Delta Air Lines, who explained how the airline applies these new learnings to provide better customer service, expedite security, and save fuel.
IBM worked with Walmart to apply blockchain technology to monitor food safety throughout the retail giant's network. Use of the technology reduced a 7-day tracking process down to 2.2 seconds, explained Charles Redfield, Walmart's EVP of Food.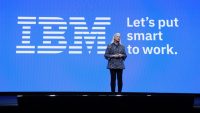 "Rometty manages to project the power of vision and commitment with a no-nonsense sincerity yet an approachable compelling manner that seemed right for the times," reports Forbes. "The solo delivery was interspersed with a fireside chat-meets-talk-show vibe with her fellow executive peers from various companies which at once both allowed the IBM power to be understood via use cases expressed in authentic conversations as well as provided for fluid pacing."
The company behind Watson took the keynote opportunity to address ethics. "What is vital is to make anything about AI explainable, fair, secure and with lineage, meaning that anyone could see very simply see how any application of AI developed and why," suggested Rometty. (For more information, check out IBM's guide for designers and developers, "Everyday Ethics for Artificial Intelligence.")
To close her talk, Rometty coined the term "new-collar" jobs and spoke about IBM efforts to close the digital skills gap by partnering with schools in their Pathways in Technology programs. Five IBM employees from different regional, ethnic, and cultural backgrounds all told their entry stories. Rometty also announced a new partnership with CTA for an Apprenticeship Coalition.
"This is what it means to be an inclusive culture," she concluded.