Yesterday, we reported from the Sands Convention Center at CES where a number of innovative startups — including IonVR, The Eye Tribe and Reach Bionics — are demonstrating some compelling solutions for improved VR experiences this week. Today, we'll be examining three other companies exhibiting at the Sands: Impulsonic and its Phonon 'sonic architecture' package; the Freefly VR head-mounted display from Proteus VR, that features a Bluetooth-connected controller; and ImmersiON VRelia, which offers a unique spherical encoding and compression solution with its mobile VR headset.
Impulsonic (Sands #80149) allows you to model the acoustic impression of a virtual space, so the sound textures and visual experience will match your expectations as you wander through a virtual world.
Impulsonic has developed Phonon, a 'sonic architecture' package originally designed for architects to demonstrate to their clients what wandering through their designed spaces would sound and look like.
It takes the distance, shape, texture and other parameters of surrounding surfaces into account as the software develops a model of spatial acoustic properties that map directly onto the architectural model of the space.
Using Impulsonic's software, you would hear the echoes and damping that you would expect as you walk from hard-surface rooms into rooms with rugs and wallpaper.
Freefly VR (Sands #81634) from Proteus VR Labs offers a wireless controller with its mobile VR headset so you can control the experience from your lap.
The HMD features a few interesting twists. First, it has sliding brackets rather than interchangeable trays to hold the cellphone. It can be instantly adapted to work with phones ranging from 135mm to 165mm in length. The HMD has a 120-degree field of view (FOV) and 42mm lenses designed to accommodate the interocular distance of 90 percent of the population.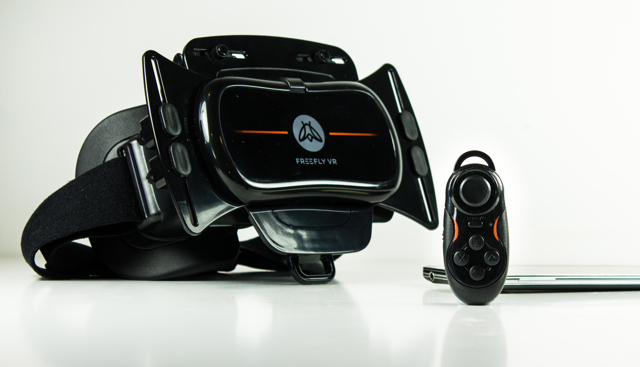 The most interesting, if not especially inventive, feature is a Bluetooth-connected controller. You can start/stop, shoot, select, etc. with your hands on your lap instead of brushing the side of the headset. The Freefly VR has been a sales success in Europe and is already on its second production run. It is available in the U.S. from Amazon for $85.
Finally, Manuel Gutierrez-Novelo, the founder of TDVision, is repurposing his patented encoding and compression technology and offering it with a mobile VR HMD. The ImmersiON VRelia (Sands #81633) headset, with easily adjustable focus and interocular distance, is now shipping with a handheld controller for $139.
The VR companies at the Sands are complementary to Zeiss, Oculus, Avegant Glyph, ANTVR, and the other VR companies with booths at the LVCC South Hall. Expect major technical improvements, strategic partnerships, major investments, and breakthrough VR experiences to be announced on an accelerated basis throughout 2016.
[
Click here to read Part 1
of this story, featuring details regarding products from IonVR, The Eye Tribe and Reach Bionics.]
Topics:
Amazon
,
AntVR
,
Audio
,
Avegant Glyph
,
Bluetooth
,
CES 2016
,
Controller
,
CTA
,
Europe
,
FOV
,
Freefly VR
,
Headset
,
HMD
,
ImmersiON VRelia
,
Impulsonic
,
IonVR
,
Las Vegas
,
Manuel Gutierrez-Novelo
,
Mobile VR
,
Oculus
,
Phonon
,
Proteus VR Labs
,
Reach Bionics
,
Sonic Architecture
,
TDVision
,
The Eye Tribe
,
United States
,
Virtual Reality
,
VR
,
Wireless
,
Zeiss